Nintendo Switch Online members will be able to get their hands on 3 additional NES games this October, as Nintendo continues to expand their trove of classic titles.
NES Open Tournament Golf, Solomon's Key and Super Dodge Ball will all be available to play via the Nintendo Entertainment Software app on October 10th 2018.
Originally released in 1991, NES Open Tournament Golf was the second golfing game published by Nintendo, but the first to star everyone's favourite moustachioed plumber. The NES game included multiplayer (with P1 as Mario and P2 as Luigi), so will almost certainly have online play on the Switch.
Solomon's Key was first released for NES back in 1987. The classic action puzzler puts players in the shoes of a wizard called Dana, who must seek out Solomon's Key in order to seal away the demons unleashed upon the world. Solomon's Key was a single-player experience when it launched and is expected to be the same on Nintendo Switch.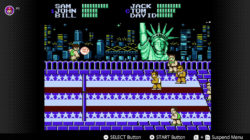 Although Super Dodge Ball landed on Famicom in 1988 and NES in 1989, it didn't actually see a European release until 2014 – when it was added to the Nintendo 3DS' virtual console. The classic dodgeball-based title features a single-player tournament, two-player vs mode, and a free-for-all mode. Online play for Switch is highly likely.
Nintendo will be adding more NES games to their online service every month, with titles like Metroid and Mighty Bomb Jack shown in September's Nintendo Direct, so keep an eye out for future NES releases.