Darksiders II Deathinitive Edition certainly appears to be heading Nintendo Switch this year. The upcoming Switch port, which is still yet to be officially announced, has been leaked by THQ Nordic's subsidiary company Koch Media.
It's only been a matter of weeks since Nintendo Switch listings for both Darksiders II and Biomutant cropped up on EB Games. Now, thanks to a slip-up from THQ Nordic, it appears as though we may have some solid evidence that at least one of the potentially leaked titles is Switch-bound.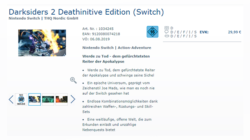 Koch Media, a company acquired by THQ Nordic in February 2018, seems to have launched an official distribution page (a little too early) for Darksiders II Deathinitive Edition on Nintendo Switch. The upcoming release is clearly labelled for Nintendo Switch in both the platform details and product title, whilst also confirming that THQ Nordic GmbH will be acting as the publisher.
According to details on the product distribution page, Darksiders II for Nintendo Switch will be priced at €29,99 in Europe and is set to launch on August 6th, 2019. The game is also listed as having been rated by the USK as suitable for players 16 years old (or over).
The fact that a distribution listing exists for Darksiders 2 on Switch, plus the bonus USK rating, also confirms that Darksiders II Deathinitive Edition will see a physical Switch release in at least Europe. Considering the first Darksiders Switch port saw a worldwide physical release, it wouldn't be too much of a leap to assume the sequel will also get similar treatment.
THQ Nordic really aren't having the best time keeping upcoming releases under-wraps. After accidentally leaking the first Darksiders Switch release, it seems like they're all set to continue the trend of spoiling their own announcements. With evidence of Darksiders II on Switch adding credence to the EB Games listings, a Nintendo Switch port of Biomutant is also seeming more likely than ever.