With the franchise six years in the making, Shovel Knight developers Yacht Club Games are preparing to release Shovel Knight Pocket Dungeon. Currently in the depths of its development, players at PAX East will be able to try the new title.
Taking place in a Tetris-style grid-based puzzle, blocks fall from the ceiling upon one of ten heroes from the Shovel Knight universe. Rushing into enemies to trade damage, the chivalrous knights must group foes for massive chain attacks if they want to survive the dungeon. Along the way, keys, powerups, and potions will be scattered about to aid our heroes in their quest.
Playing competitively against a friend, or in a story mode adventure, arm yourself with equipment and change your loadout for your next encounters. This entry in the Shovel Knight universe wields a new art-style and soundtrack, and will bring a whole new adventure with the humour and storytelling fans have loved since the franchise's inception.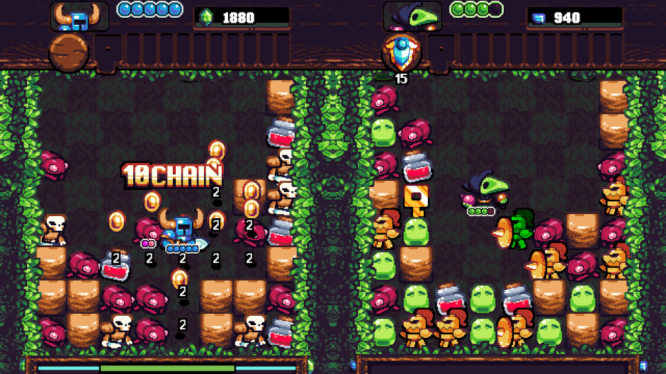 Shovel Knight Pocket Dungeon is being developed by indie studio VINE and published by Yacht Club Games. Yacht Club began the Shovel Knight treasure trove in 2014 after a successful Kickstarter campaign, ending the treasure trove saga in 2019 with the release of Shovel Knight King of Cards and Showdown. Six years after their Kickstarter campaign, gamers worldwide have fallen in love with the indie darling. Now ready to move onto further adventures, the studio is developing several products outside the Shovel Knight universe.
While no platforms have been announced for Shovel Knight Pocket Dungeon, we anticipate a Nintendo Switch release of the title. With the title playable at PAX East this weekend, we'll be sure to know more soon. In the meantime, Yacht Club Games left us with the trailer found below.
Shovel Knight Pocket Edition Trailer