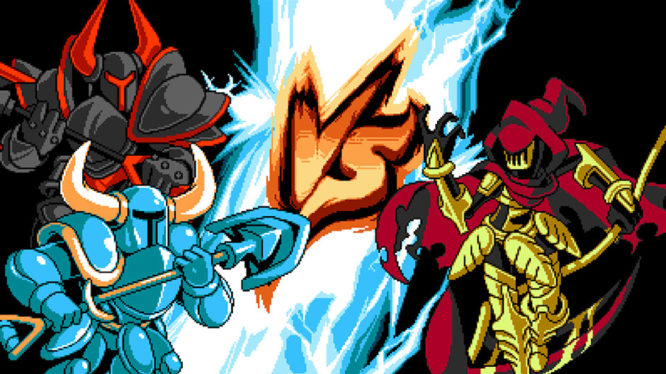 Yacht Club Games has announced the final update to their smash hit Shovel Knight. A multiplayer battle mode called, "Shovel Knight Showdown" is releasing as both a standalone title for $9.99 and as a free update to Shovel Knight: Treasure Trove.
Showdown allows up to four players to compete in a number of game modes ranging from one-on-one duels to four-player free-for-alls. Players just looking to have some fun together can also compete against AI opponents as a team.
Game modes include Gem Clash, Showdown, and a full Story Mode that changes based on which of the game's 16 playable characters you choose. Each version includes a unique series of challenges, minigames, and final encounter.
IGN exclusively revealed Black Knight, Gold Armor, Plague Knight, Propeller Knight, Polar Knight, Shield Knight, Shovel Knight and Specter Knight as playable characters, while Yacht Club's press kit name-dropped The Enchantress, and "all of the Knights of the Order of No Quarter."
Yacht Club also told fans that the game mixes "stages inspired by famous characters and locales in Shovel Knight," alongside all-new stages and music.
Shovel Knight Showdown releases worldwide in 2019 on Nintendo Switch, PS4, PC, Xbox One, Mac, Linux, and Wii U. Those who own the game on 3DS or PS Vita will be disappointed to learn that the update isn't coming to either version.
Shovel Knight Showdown is the final update promised by Yacht Club Games in Shovel Knight's Kickstarter campaign stretch goals. The first update – Plague of Shadows, followed Plague Knight. The game's second update – Specter of Torment, followed Specter Knight. The upcoming King of Cards campaign is the third update and will follow King Knight.
Yacht Club also took to Twitter today to promote the reveal of King of Cards' release date expected later this week, promising that the game was, "by far our biggest and most grandest singleplayer campaign yet!"
Shovel Knight Showdown Gameplay