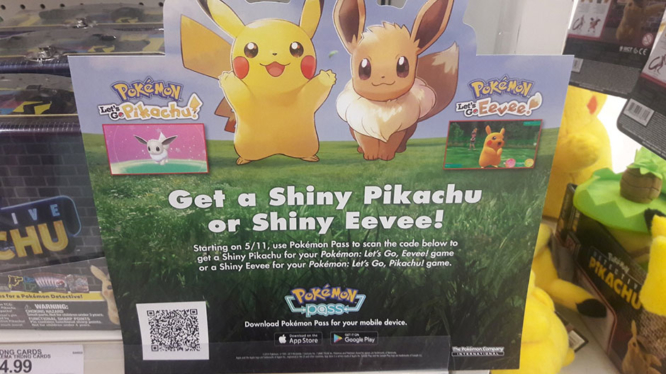 UPDATE: The Pokémon Pass app has now officially been announced!
Nintendo and The Pokémon Company have remained tight-lipped over the upcoming Pokémon Sword and Pokémon Shield games since their initial reveal trailer in February. It appears though, that they haven't been able to prevent leaks about every upcoming project in their Poké-pipeline.
A couple of promotional posters for an app named Pokémon Pass have been spotted by Twitter user Tsukento in a Target store in the US. The posters indicate that the app will be downloadable from the iOS App Store and Google Play, and make reference to events starting on May 11th. Presumably Pokémon Pass will be available on or before this date.
One poster details an event which will give players a shiny Eevee for their copy of Let's Go, Pikachu!, or a shiny Pikachu for Let's Go, Eevee! This would indicate that the app will have some kind of connectivity with the Switch games, although in what manner is purely speculative at this point. Is it possible that app will also be able to link up to Pokémon Sword and Shield on their release?
The other poster advertises an event which grants a special Pokémon Detective Pikachu sticker featuring Psyduck. This perhaps indicates that the app will feature some kind of sticker collection, but again, that's all speculation at this point.
QR codes can be seen on the posters which, when scanned, direct to the app section of the official Pokémon website, but there is currently no mention of Pokémon Pass to be found. Expect that to change in the coming days though, with an event starting in less than two weeks, an official reveal must be imminent.