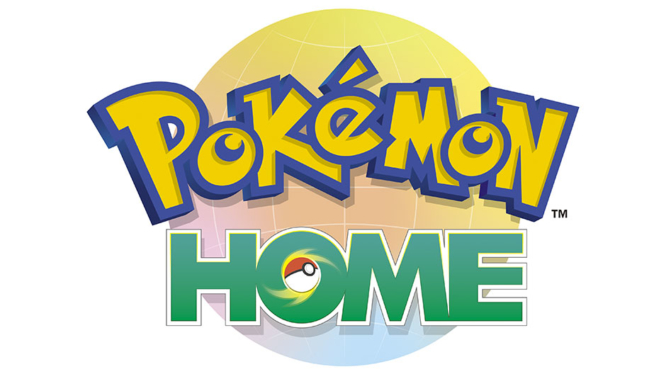 Avid Pokémon trainers that have been waiting to transfer their roster of monsters from previous games into Sword and Shield don't have much longer to wait until Pokémon HOME allows them to do just that when the service launches next month.
Today, The Pokémon Company and Nintendo unveiled more details and pricing for the upcoming service, including premium pricing for iOS and Android as well as the Nintendo Switch.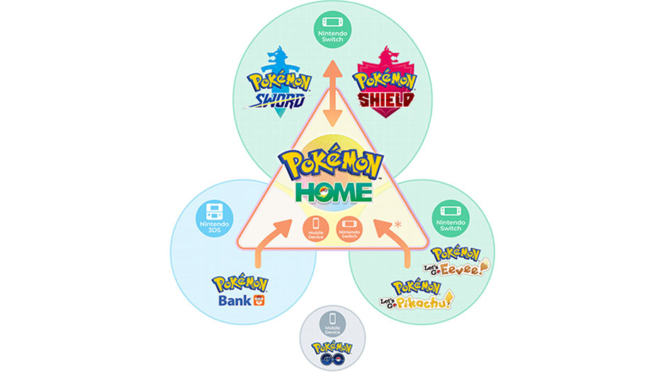 Once players have linked participating games from the Pokémon series, they'll be able to transfer and store their Pokémon in Pokémon Boxes for safekeeping or move them between games. Linking the same Nintendo Account on both the mobile and Switch versions of the HOME service enables access to the same Pokémon Boxes for transfer between platforms. At launch, Pokémon HOME will support connectivity with the following games on Nintendo Switch:
Pokémon Sword
Pokémon Shield
Pokémon: Let's Go, Pikachu!
Pokémon: Let's Go, Eevee!
Pokémon HOME on both Switch and mobile also supports connectivity with the 3DS' Pokémon Bank app if the user has opted to enroll in the Premium Plan. Pokémon GO support is also planned and is currently in development.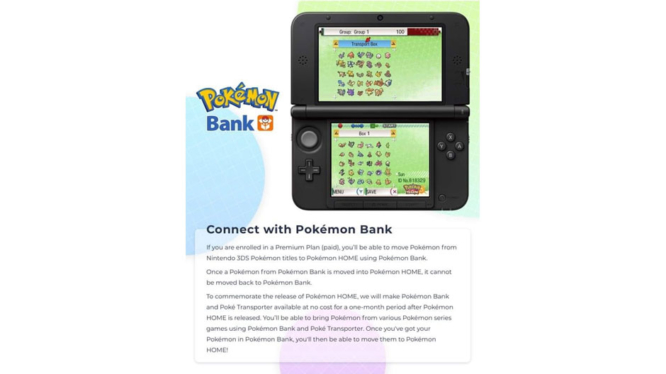 In celebration of the release of the new Pokémon HOME service, trainers that act fast will be able to transfer their Pokémon to Pokémon Bank from Poké Transport and subsequently Pokémon HOME for free for a month after launch. However, there is one caveat with the transfer of Pokémon. Once a Pokémon has been moved from either Pokémon Bank or Pokémon Let's Go Pikachu/Eevee, it cannot be transferred back to its original title. Pokémon transferred from either Pokémon Sword or Shield can travel back and forth from Pokémon Home freely.
When Pokémon HOME launches, trainers will be able to trade Pokémon on a mobile device for the first time. There are four ways Pokémon can be traded in Pokémon HOME:
Pokémon can be placed in the Wonder Box and traded with trainers around the globe.
The Global Trade System (GTS) allows trainers to specify Pokémon they're willing to trade and receive.
Premium Plan subscribers can create a room to trade with up to 20 people privately.
There's a whole host of additional features that Pokémon HOME has to offer at launch. For example, Pokémon will be registered to the National Pokédex when deposited in boxes. Should a Pokémon have a Mega Evolve or Gigantamax form, these will also be registered in the Dex.
Additionally, codes for Mystery Gifts will be distributed in Pokémon HOME for redemption in Pokémon Sword or Pokémon Shield and Pokémon HOME points can be accumulated and swapped for Battle Points (BP) for use in Pokémon games. Premium Plan subscribers can also use the Judge feature to check their Pokémon's stats. Players will also have access to the Your Room section, where they can see information about upcoming Pokemon events, see which games they've connected, and customize a profile visible to other players.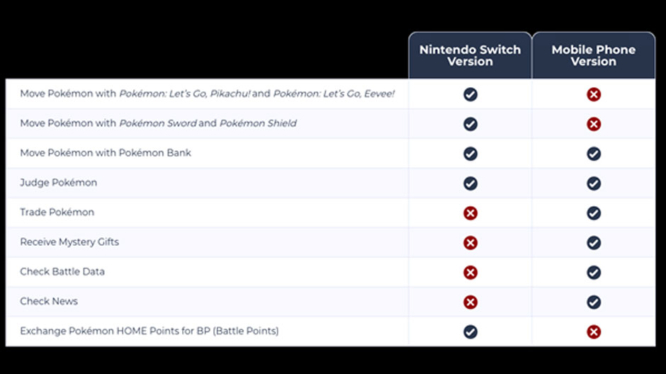 It's worth noting that there are some differences in what the Nintendo Switch and Mobile versions of Pokémon HOME can do. In the mobile version of Pokémon HOME, players can look at rankings and data for ongoing online competitions in Pokémon Sword and Shield, receive updates on Pokémon being distributed as gifts and information about Online Competitions for Pokémon Sword and Pokémon Shield.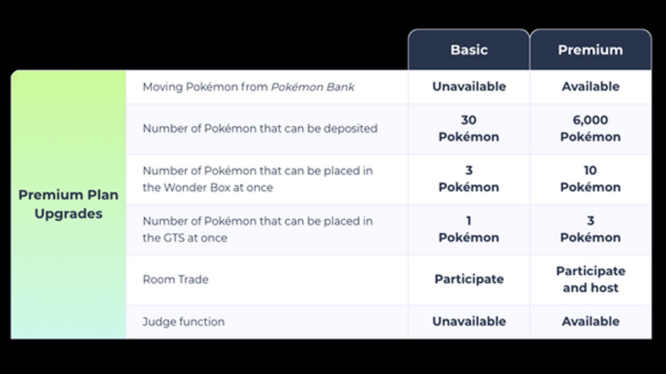 Pricing for the Premium Plan varies between devices and the length of the subscription purchased. Pricing for the Nintendo Switch version is as follows:
| | |
| --- | --- |
| Subscription length |  Price (including tax) |
| 1 month (30 days) | £2.69 |
| 3 months (90 days) | £4.49 |
| 12 months (365 days) | £14.39 |
iOS and Android subscribers can expect to pay the following for Pokémon HOME's Premium Plan.
| | |
| --- | --- |
| Subscription length |  Price (including tax) |
| 1 month (30 days) | £2.99 |
| 3 months (90 days) | £4.99 |
| 12 months (365 days) | £15.99 |
Pokémon HOME launches for both Nintendo Switch and mobile devices in February 2020 so be sure to keep an eye out for a definitive launch date soon and prepare to bring your Pokédex with you wherever you go.