Almost a year since its release last June, Mario Tennis Aces received another major update earlier this week. The new update, Version 3.0, includes a behemoth of new content from new game modes to a new opening cinematic for Adventure Mode.
Perhaps the biggest addition in this update is the inclusion of Ring Shot – a brand new mode where players compete for a high score by hitting the ball through rings as they appear on the court. This new mode allows Singles and Doubles gameplay alongside the choice of playing on every court with our without hazards on. If you aren't in the mood to compete against someone else, you can work cooperatively with other people to get the highest score together. The co-op version of Ring Shot even includes special challenges that get harder as the minimum score increases.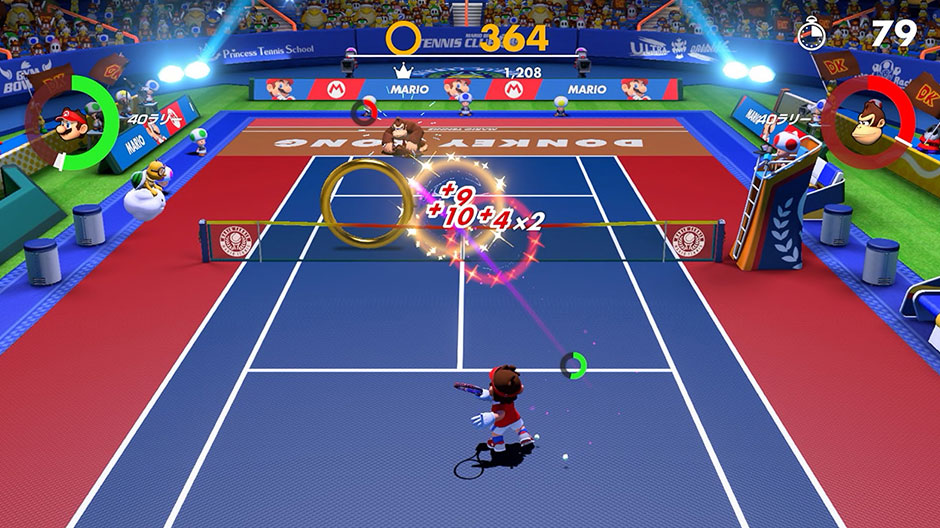 A new limited time mode called Yoshi's Ring Shot alters the Ring Shot gameplay and entices you with a prize exclusive to this event. Much like the cooperative mode, Yoshi's Ring Shot sees players working together to score as many points as possible by hitting the ball through the rings. If you hit the ball through a ring that's the same colour as the Yoshi you are playing as, the number of points you gain are quadrupled, adding an extra layer of strategy to the gameplay. Depending on how well you rank, you'll unlock pink, light blue, and orange Yoshi variants that can be played in free play modes and tournaments. This limited time event is underway right now and doesn't end until June 1st, 2019.
Mario Tennis Ace's opening cutscene has also been spruced up a bit and adds more context as to how Wario and Waluigi came across the antagonistic racket. Even if you have started Adventure Mode, this cutscene is viewable anytime by going to the Bonus Menu and selecting Opening (Ver. 3).
Starting May 1st, Dry Bones will be available to unlock by playing the Online Tournament as the 28th entry to the Mario Tennis Aces roster. Like previous new characters, if you don't get a chance to unlock Dry Bones through the month, he'll unlock automatically starting in June.
Additional changes include adjustments to certain character abilities, a handful of changes to the Shot system, and a couple of new settings. Check out the Nintendo Support site for the full changelog and catch a glimpse of the new Ring Shot mode in the embedded video below.
Mario Tennis Aces - New Ring Shot Mode