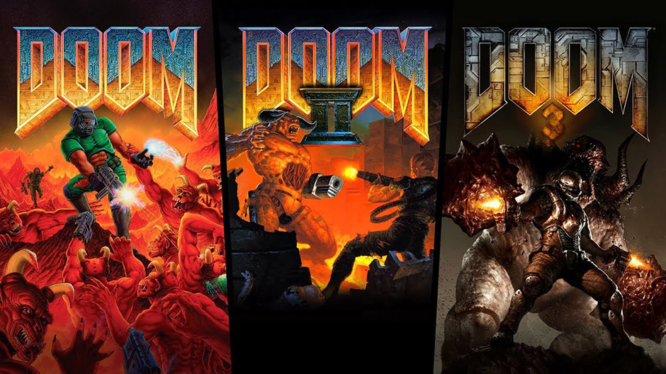 The action-packed, brutal, demon-slaying classics DOOM, DOOM II, and DOOM 3 have all just been given a surprise re-release on Nintendo Switch and other consoles. Best of all, they're available right now!
Nintendo Switch fans can now pick up the original DOOM and DOOM II for $4.99 / €4,99 / £3.99 from the Nintendo eShop, with DOOM 3 coming in at the slightly higher price of $9.99 / €9,99 / £7.99.
First released in 1993, DOOM's innovated action gameplay makes a worthwhile return and its re-release packs the expansion episode: Episode IV: Thy Flesh Consumed. Console owners will be able to throw it back to the '90s and battle it out in split-screen 4-player deathmatches, and enjoy split-screen cooperative play as well!
DOOM II introduced DOOM fans to the Super Shotgun, useful against the memorable boss, the Icon of Sin. This re-release includes the 20 level expansion, dubbed The Master Levels, and touts the original re-release's 4-player deathmatch and split-screen cooperative play as well.
DOOM 3 touts a compelling retelling of the original DOOM, tasking the player with destroying Hell's most formidable boss to end the invasion of demons. This re-release also includes the Resurrection of Evil and The Lost Missions expansions.
Get ready to fight through the depths of Hell and relive those classic moments with DOOM, DOOM II, and DOOM 3 console re-releases – available now on Nintendo Switch and other platforms!
DOOM, DOOM II, and DOOM 3 Re-Release Trailer