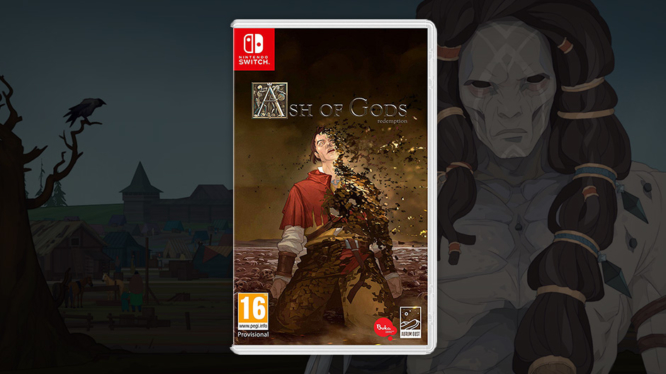 Ash of Gods: Redemption, the tactical turn-based RPG from developer Aurum Dust, appears to be heading to Nintendo Switch on July 30th 2019. Multiple listing from both retail and distribution not only support the July release date but also provide a first look at the physical Nintendo Switch box art.
Featuring "roguelike storytelling" that's said to constantly evolve, Ash of Gods: Redemption mixes together elements of collectable card games, traditional and turn-based RPGs into a game that makes every decision count. Whether it's the main character dying or on otherwise seemly insignificant decision, every turn you make can impact the way in which the plot unfolds.
Ash of Gods: Redemption first launched for PC in March 2018 (after funding itself through a successful Kickstarter campaign) and was later announced to be coming to Nintendo Switch in 2019. Now, thanks to a physical retail pre-order listing on Amazon UK, it appears as though the critically acclaimed title will be making its Switch debut on Tuesday, July 30th 2019. While it's possible that the provided date could be a retail placeholder, it's worth noting that it isn't listed as using the usual final working day of the month (31st). There's also more potential evidence to help support the Tuesday release.
A quick bit of internet sleuthing also brought up a distribution listing for the physical Nintendo Switch port of Ash of Gods: Redemption. Koch Media, the company behind the recent Darksiders 2 Switch leak, also back-up the July 30th date found in the Amazon pre-order listing. Making the date seem even more likely.
While we can't be completely sure until an official announcement is made, all signs so far certainly seem to point to Ash of Gods: Redemption's Switch release landing on July 30th 2019. Hopefully we'll hear more about the impending release over the coming weeks.
Ash of Gods: Redemption's physical release is listed by Koch Media as costing €29,99 in Europe and the game is currently available to pre-order on Amazon UK for £24.99.
Ash of Gods - Roguelike Storytelling