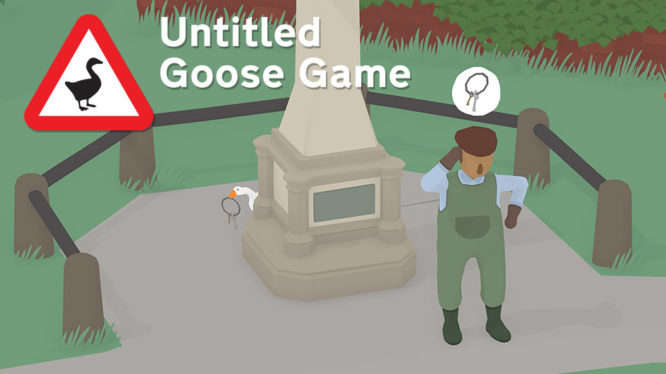 Of the 22 games shown off during Nintendo's Summer 2018 Nindies Showcase, only Untitled Goose Game has you assume the role of a horrible goose with the sole of ruining everyone's day.
In one of the most unique concepts for a video game in recent years, Untitled Goose Game from developer House House is described as "part stealth, part sandbox, and all Goose simulator". The game features a slapstick sense of humour and has players stealing objects, ruining picnics, honking at shopkeepers and generally causing havoc in the village's houses, shops, and parks.
Armed with nothing but their own imagination and the Goose's beak, players can pick up objects that belong to the unsuspecting villagers (such as sandwiches at a picnic and carrots in an allotment) to achieve various goals. One such goal challenges the Goose to "wash clothes" which the player can achieve by stealing clothes and soap and mixing the two in a water source. It is not yet clear exactly how players will collect new goals to complete, but given that the game is a sandbox there are likely multiple ways to complete each goal.
Untitled Goose Game was initially revealed in 2017 for PC but yesterday's announcement confirmed that the game will also be making its way to Switch. It also seems that the horrible goose has found a publisher in Panic Inc. who previously published Campo Santo's Firewatch.
Keep an eye out for Untitled Goose Game when it hits the Nintendo Switch and "home computers" in early 2019.
Untitled Goose Game teaser trailer