After a number of delays, Developer Mega Crit has finally confirmed that Slay the Spire is set to launch for Nintendo Switch on June 6th, 2019. The roguelike card game fusion will be priced at $24.99 in North America, with other regional prices yet to be announced.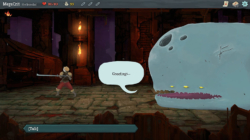 Speaking on their official Steam community page, Mega Crit doubled-down on the Switch release date stating that it is now "100% locked-in". An artwork shot (accompanied by the usual Nintendo Switch trailer logo) was also shown, most likely indicating that their Switch launch trailer is also ready to roll out. The statement read:
It's been a while, but we finally have a 100% locked-in date for the release date of Slay the Spire on Switch! We know this has been pretty heavily anticipated, so we can't wait to get this thing out the door for you all. Get ready to climb the Spire on the bus/train/plane/automobile (passenger side please).

Go click this link in a few weeks: https://www.nintendo.com/games/detail/slay-the-spire-switch/
Pitched as "the best single player deckbuilder" Meta Crit could craft, Slay the Spire combines elements of both roguelike titles and deck building games. Each of the three core characters packs their own unique set of cards and players can craft their own decks from over 200 cards found within the game. Slay the Spire also features over 100 different items to uncover, plenty of bizarre and unique creatures to defeat, and procedurally generated levels to keep the game feeling fresh on every play-through.
Slay the Spire will release for Nintendo Switch on June 6th 2019 and will be available to download from the Nintendo eShop for $24.99. Prices for other regions are yet to be confirmed.