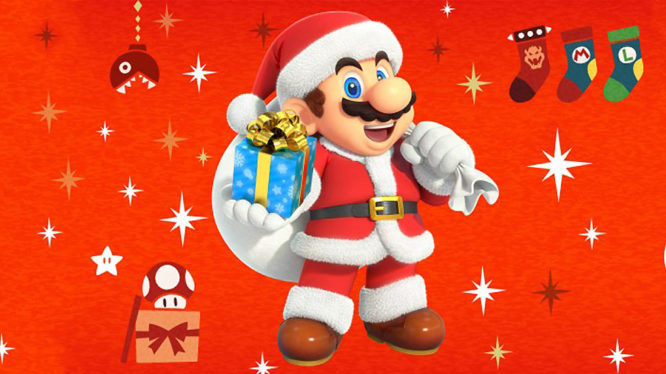 'Tis the season for giving, and in that spirit Nintendo Europe is throwing a massive sale on the Switch, 3DS and Switch eShops. The Festive Offers sale kicked off last week, with more games discounted in the last couple of days.
If you're hoping to unwrap a Switch on Christmas morning then you won't miss out on the chance to bag a bargain either. Nintendo's Festive Offers sale is ongoing throughout the holiday season and ends on January 3rd, 2019.
To help you navigate the hundreds of games currently discounted, the LootPots team have assembled lists of their personal picks from the sale.
Our Festive Favourites
Max Wright
Yoku's Island Express (-50% / £7.99 / €9,99)
Yoku's Island Express is a very unique little Metroidvania that deserves to be enjoyed by more people.
Jackbox Party Pack 3 (-25% / £15.02 / €17,99)
With five hilarious games to choose from and an easy to understand browser-based UI, Jackbox Party Packs are endless fun with friends.
Mario + Rabbids Kingdom Battle (-50% / £14.99 / €19,99)
It's XCOM in the Mushroom Kingdom, what more do I need to say? This is the best strategy game on Switch and if you missed it on launch then this is a steal.
Monster Hunter Generations Ultimate (-30% / £34.99 / €41,99)
Monster Hunter on the go is the perfect way to pass time. This game is absolutely packed with content, so you won't run out of things to hunt or craft any time soon.
Axiom Verge (-50% / £7.49 / €8,99)
Inspired by the original NES Metroid, Axiom Verge also seems to take inspiration from Metroid's exploitable glitches. You'll be wielding glitchy powers and world-bending passwords to explore this creepy, pulsating world.
Pete Imbesi
Ultimate Chicken Horse (-25% / £10.11 / €11,24)
Ultimate Chicken Horse is one of the most fun multiplayer experiences of the last few years. You and up to three friends have to compete to build (and finish) the craziest platforming level imaginable. Make one that's too easy, and no one gets points for finishing; make one too hard and you'll never finish.
Mega Man Legacy Collection 1 & 2 (-25% / £8.99 / €11,24)
Even though Mega Man 11 released this year (and was quite enjoyable) Mega Man Legacy Collection bundles some of the best platformers ever made in a lovingly crafted package. If you haven't played all-time classics like Mega Man 2 or 3, now's your chance.
Super Meat Boy (-30% / £8.39 / €9,09)
Can you tell I like platformers? The OG indie darling Super Meat Boy is charming, challenging, and straight up weird. If you're a fan of punishing platformers, floaty physics and somehow haven't played this game yet do yourself a favour and give it a shot.
Puyo Puyo Tetris (-50% / £17.49 / €19,99)
Tetris is the undisputed king of arcade puzzle games, but Puyo Puyo has made a serious case for itself as #2 over the years. This game packages them both together for one of the best arcade puzzle experiences around.
Party Hard (-20% / £10.79 / €11,99)
Party Hard was one of my favourite games on PC when it released in 2015 because I hadn't played anything else like it. You play a serial killer who must infiltrate a variety of parties and kill the attendees without being noticed. Despite the grim setup, the game is surprisingly funny and its arcadey gameplay is totally addictive.
Stephen Radford
Civilization VI (-20% / £35.99 / €39,99)
I'm a big strategy fan and have long been a player of Civilization. As the latest instalment in the franchise is now on Switch you can take this turn-based classic with you anywhere as you research science, battle wars, and ensure your religion indoctrinates the world.
Pan-Pan (-50% / £2.99 / €3,00)
This is a cute, little environmental puzzler that's great to relax with. You'll need to explore the world to find items and tools that will help you solve puzzles and uncover the story of Pan-Pan.
Keep Talking and Nobody Explodes (-40% / £8.09 / €8,99)
Additional stress is just what you needed at Christmas right? Keep Talking and Nobody Explodes is an absolute blast (pun definitely intended) as one of you tries to diffuse a bomb as others shout instructions at you. It's like a virtual Crystal Maze challenge and a perfect party game.
Overcooked 2 (-25% / £14.99 / €18,74)
This year's Family Game of the Year is a follow-up to one of my all-time favourite multiplayer games. Overcooked 2 places you in the kitchen with up-to 3 friends. You'll need to work together to get orders out and ensure everything doesn't go up in flames!
Late Shift (-30% / £6.99 / €9,09)
A bit of a curve-ball but I've always been partial to those FMV games of yore. While Late Shift might not have the cult appeal of Night Trap, I still had a great time with it. I recommend playing this with a group of friends, voting on the choices to see which of seven endings you get.
Other highlights from the sale include the Phoenix Wright: Ace Attorney Trilogy and Mega Man Legacy Collection on 3DS. Wii U owners can also pick up Resident Evil Revelations, DuckTales: Remastered, and Trine 2: Director's Cut at a discount.
A full list of games included in the Festive Offers sale can be found on Nintendo's website.