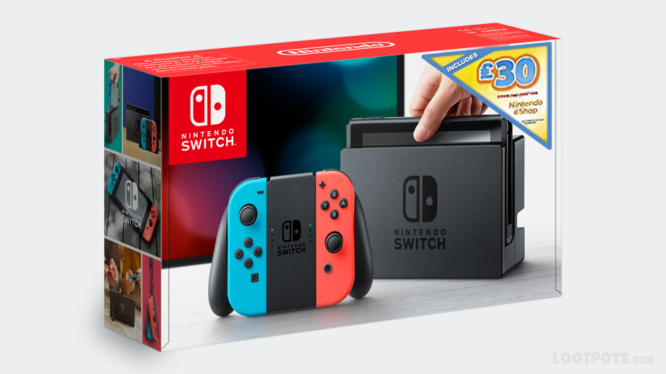 Nintendo will be releasing a new Nintendo Switch console bundle with £30 eShop credit in the UK at some point in the future. The new Switch bundle, which has yet to be officially announced, seems to have accidentally leaked before its reveal.
Having already released a $35 eShop console bundle exclusively for the US market in February 2019, it now seems like Nintendo have decided that it's the UK's turn to see a similar deal. The upcoming bundle will contain all the usual Nintendo Switch console hardware alongside a redeemable code worth £30 on the UK's regional Nintendo eShop. As with the standard Switch consoles, the eShop bundle will be available with both the  Neon and Grey console variants.
Despite not being officially announced yet, the upcoming Switch bundles seem to have accidentally made their way into the public listings on Amazon UK. While the actual product pages titled "Mario G Switch" and "Mario N Switch" (Grey and Neon) are not accessible yet, the bundles can be seen in over 12 listings where they have also been paired with first-party games like Breath of the Wild, Smash Bros Ultimate, Mario Kart 8 Deluxe, and Super Mario Maker 2.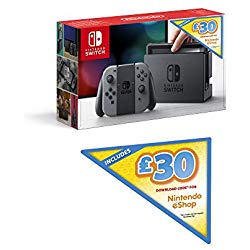 Although the bundle + game listings use the standard Amazon "Box art coming soon" placeholder images for the product, details and a thumbnail shot of the eShop console bundle can still be seen in the bundle break down at the bottom of the page.
According to Amazon UK, the Nintendo Switch + £30 eshop credit bundle will be priced at £309.99 at launch and appears to use an extremely similar corner label to its US counterpart.
Unfortunately, only a placeholder date of "December 31, 2020" has been used in the listings, so we'll have to wait for an official reveal from Nintendo to find out when the bundle actually launches.