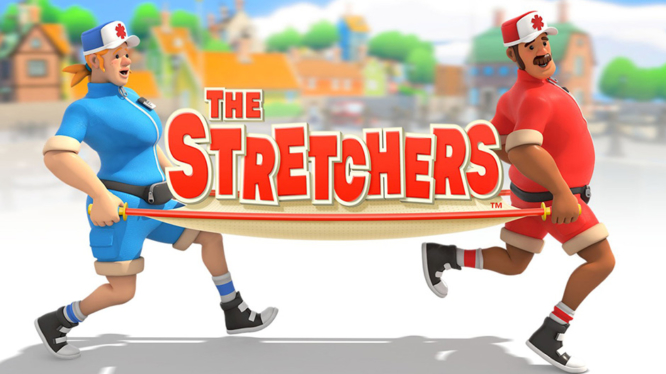 The Stretchers, a brand new co-op puzzler published by Nintendo, has been surprised dropped onto the Nintendo Switch eShop. Developed by Tarsier Studios, the wacky digital-only title is available to download right now for £17.99 / €19,99.
Become a medic and rescue wobbly citizens (known as Dizzies) either alone or with a friend. Drive up to the scene in your ambulance, grab your stretcher and manipulate the environment to reach the Dizzies – breaking down walls, blocking lasers, and much more as you go! Cooperation is key to pile up the Dizzies, rescue them just in time, avoid peril and move on to your next call. Solo players will be able to control two medics, or pass a Joy-Con over and cooperate with a friend.
There are many bonus achievements and items to collect, so before you set off to another call to action, be sure to leave no stone unturned. If you're after a high score or want to fill up your Sticker Book then exploration is key. Thankfully, your ambulance will not take any damage and can be upgraded in various ways – so you and a buddy can truely ride in style. The medics are also customisable, so you'll be free to make them make it your own.
Get ready to tackle unique and wacky puzzles alone or with a friend in The Stretchers, available to download now on the Nintendo Switch eShop for £17.99 / €19,99. Be sure to check out the chaotic launch trailer below!
The Stretchers - Launch Trailer (Nintendo Switch)