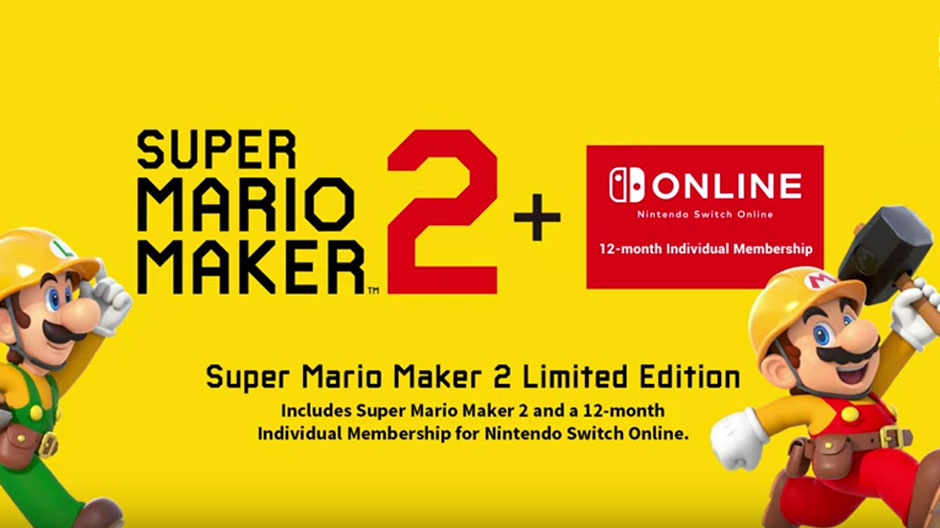 The latest Nintendo Direct has revealed a slew of new items, features and themes coming to Super Mario Maker 2.
New items revealed during the Direct included fan favourites like the seesaw, Red Yoshi and Banzai Bill, as well as new additions like the swing claw and coins worth 10, 30, or 50 each. Players will also be able to enjoy new level themes including Desert, Snow, Forest, and Sky. Super Mario Maker 2 also adds the brand new option to change the time of day to night, which will lead to unique environmental changes for each theme.
New customisations in existing themes are available as well, like being able to change the height of the water. Would-be level designers will now be able to enhance levels with options like custom scrolling and creating vertical sub-areas. We also learned that players will be able to determine if the newly added slopes are steep or gentle.
The presentation also showed off Super Mario Maker 2's exciting new Game Style: Super Mario 3D World. Players can look forward to customisations options specific to this style like Cat Mario, clear pipes, crates, and warp boxes all in the style of the Wii U classic.
A plethora of new modes were also detailed during the Direct, including a brand new Story Mode tasking Mario with rebuilding Peach's Castle by completing over 100 levels made by Nintendo. Also new to Super Mario Maker 2 were a number of multiplayer features, including the ability for two players to create a level together on the same screen.
In the new Play Together mode, players from around the world can play online cooperatively, or in a four-player race to the finish. Local online co-op is also available, with only one player required to have a dedicated internet connection, as long as the other players have a copy of Super Mario Maker 2.
New Nintendo Switch Online features were also revealed, including the return of the Course World from the Wii U original. In Super Mario Maker 2, players can comment on levels if enabled, search for courses by specific tags like puzzles or auto-scrolling, and play levels offline by downloading them to your Nintendo Switch. You can also queue up levels of a certain difficulty and play through them in the style of a traditional Mario game.
Every creator and player will have their own Maker Profile that can be customised by completing in-game objectives and unlocking new items for your avatar. Nintendo also revealed plans for the Super Mario Maker 2 2019 Invitational tournament taking place on June 8 at E3.
Aside from Super Mario Maker 2, Nintendo detailed a new concept for Nintendo Switch Online subscribers called Game Vouchers, where subscribers can buy two games in advance at a discount price.
Super Mario Maker 2 launches on June 28 and is available to pre-order digitally on the eShop for $59.99 / £49.99 or physically from Amazon for $59.99 / £39.99. A Limited Edition version (bundled with 12 months of Nintendo Switch Online) is also available digitally for $69.99 / £59.99 or physically from Amazon for $65.42 / £59.99 at the time of writing. If opting for the bundle, the 12 months of the subscription will stack on top of your current one.
Super Mario Maker 2 Direct