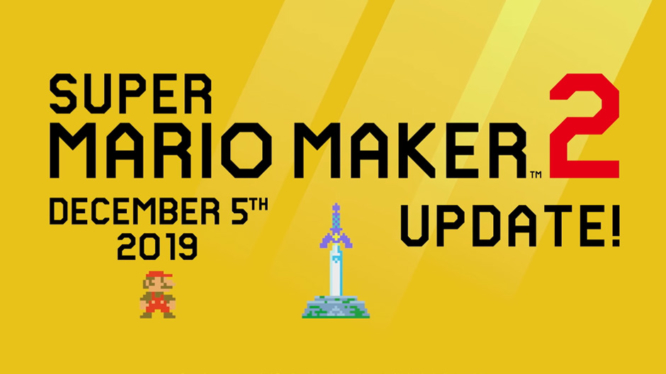 Super Mario Maker 2 fans are finally getting the content update they've been waiting for! Starting December 5th 2019, the Ver 2.0.0 update will be available to download (for absolutely free) and with it comes a ton of brand new content.
The most stand-out addition in Super Mario Maker 2's latest update is the inclusion of Link from The Legend of Zelda, or more accurately the Master Sword. When Mario grabs the Master Sword he'll not only transform into Link but also pack a brand new moveset. Whether you're stabbing enemies, downward trusting your sword, firing arrows or dropping bombs, this transformation is sure to open up a whole heap of new gameplay possibilities.
The Master Sword item (and all that comes with it) will only be available in the classic Super Mario Bros. game style, with Link's visuals taking a fitting classic 8-bit design.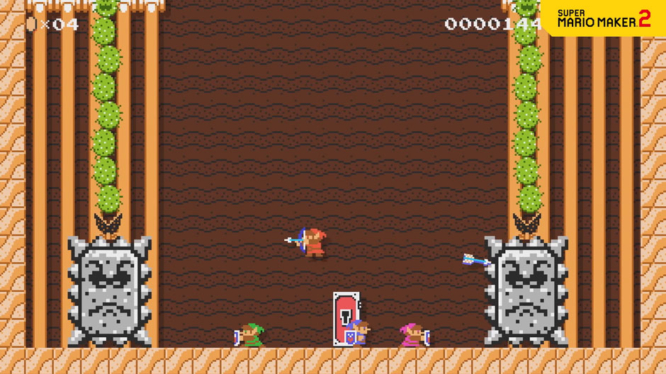 Zelda aside, Super Mario Maker 2's free Ver 2.0.0 update will also pack some new course parts, enemies, and even a brand new mode. Frozen Coins and P Blocks will be available to place on course designs, and the Super Mario 3D World style will see the addition of the "Dash Block" (which boosts Mario's speed when stepped on).
In terms of enemies, both Pokey and Spike will be joining Super Mario Maker 2 in Ver 2.0.0 with Spike's projectiles switching from the classic spike ball to snowballs when placed in a snowy environment.
If that wasn't enough already, then Nintendo will also be adding a brand new mode called "Ninji Speedrun". Sporting Nintendo created courses, this new mode will see challengers compete against other player's Ninji Ghosts in timed course challenges. Ghosts are said to be chosen from a pool of players at a similar skill level, so you'll always have someone to challenge your run.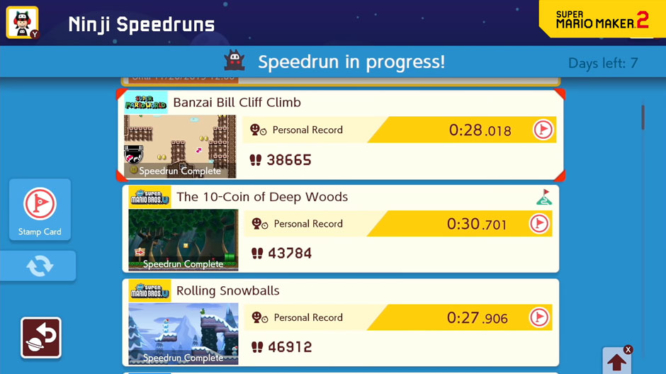 Players who clear one of the new Ninji Speedrun courses will even be rewarded with collectable stamps, which can later be traded in-game for special Mii costumes. Nice!
Super Mario Maker 2's new content update will be available to download for free on December 5th 2019. Those of you who can't wait to see any of the elements in action should definitely check out the official trailer included below.
SMM2 - The Master Sword, new course parts and more!