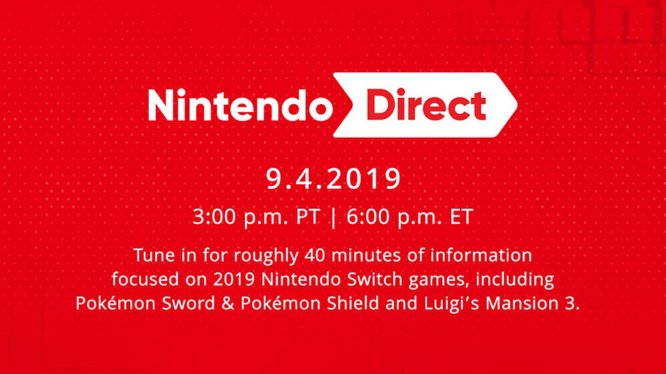 Nintendo fans, it's happening! A Nintendo Direct presentation has been officially announced for September. The showcase is set to air on September 4th (5th in Europe) at the following times:
3pm PT
6pm ET
11pm BST
00:00 CEST (September 5th)
According to Nintendo, the upcoming September Direct will run for approximately 40 minutes and focus on 2019 Switch titles. A handful of games have already been confirmed for showcase (including Luigi's Mansion 3 and Pokémon Sword / Shield) but it's not unlikely that there could be a few more surprises in store.
Nintendo has developed a habit of hosting Nintendo Directs in September, and it appears as though 2019 will continue the trend. The September presentation offers fans a chance to stay in-the-loop on titles coming through the end of the year, and in some cases, early into the following year. With Nintendo's big holiday season fast approaching (carrying triple-A titles like Pokémon Sword and Pokémon Shield), it's custom to maintain excitement with additional information and enticing new gameplay.
There's plenty of potential games that could finally show their hands (including Bayonetta 3 or Monolith Soft's mysterious titles) and with Pokémon information already confirmed, it's sure to be one to watch!
So don't forget to tune in to Nintendo's Twitch or YouTube channel at 3pm PT / 6pm ET / 11pm BST on September 4th (or midnight 5th for those on CEST) to find out exactly what they've got in store for fans.
Nintendo Direct - Sept. 4th 2019