MISTOVER, a dungeon crawler meets RPG by KRAFTON Game Union, has been announced for Nintendo Switch and PC. Currently in early access on Steam, the full release is expected in summer 2019!
The team behind PlayerUnknown's Battlegrounds (PUBG) and TERA are bringing this title to life. MISTOVER promises to tell a compelling story of an almost fallen civilisation preparing to take on the creatures that attempted to completely destroy it. The only possible way to achieve that goal is to venture into the "Village of Despair" and examine the creature's habitat. It quickly becomes apparent that it's home to an extraordinary, yet deadly, environment called The Mist – which can either be your best friend, or your worst enemy.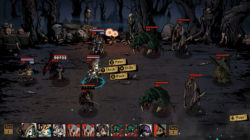 MISTOVER boasts eight classes (Paladin, Shadow Blade, Sister, Grim Reaper, Ronin, Onmyoji, Witch, and Werewolf) each with their own skills and abilities, bringing with them hours of playtime and virtually infinite replayability. You'll need to form your crew and master both individual and coordinated skills in turn-based combat to have any hope in saving humanity.
Stealthy playstyles are rewarded and MISTOVER encourages you to hide in bushes while monsters pass. You'll also need to search for treasure in order to increase your minimal food and supply storage.
KRAFTON Game Union also promises that no dungeon will be played the same way twice. This should even give the most experienced dungeon crawler fans a challenge. Gamers heading to PAX East 2019 will be able to try their hand at saving humanity from the Pillar of Despair in a demo.
Get a first look at MISTOVER in the embedded trailer below and be on the lookout for "The Mist" when it arrives on Nintendo Switch and PC this summer.
MISTOVER - Teaser Trailer