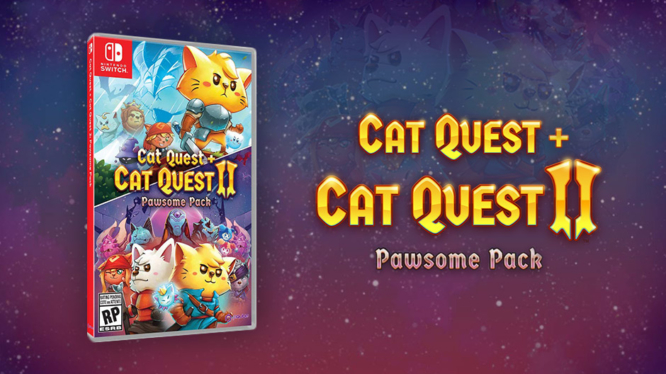 Cat Quest and Cat Quest II are getting a physical double pack release for Nintendo Switch and PS4. The aptly named "Cat Quest Pawsome Pack" will be available in both Europe and North America this Spring (May 2020) and is available to order on Amazon.
The new physical bundle will include a reversible cover that just features Cat Quest II, meaning those who have already picked up a physical copy of Cat Quest don't have to compromise when displaying both titles on their shelf. The Nintendo Switch release will also pack both games on a single cartridge, with no flimsy download codes in sight. Publisher PQube, and award-winning developer The Gentlebros have pulled all the stops to ensure that this release is the cat's pyjamas.
Cat Quest, which released in 2017, is a 2D action-RPG set in a fantasy realm full of fur. Focusing on hack 'n slash combat, this cute kitty brawler quickly gained well-deserved recognition. Following the story of the world of Felingard, the hero of your quest, alongside the guardian spirit Spirry, players must defeat the evil cat-lord Drakoth.
Cat Quest II released in September 2019 and acts as a direct sequel to Cat Quest. With the land of Felingard now being under threat of the Lupus Empire, the kings of both lands must resolve their differences as they seek to reclaim their thrones. With optional two-person co-op gameplay, new weapons, and exciting new dungeons, it is safe to say Cat Quest II promises to deliver the joy of the first title and more.
Cat Quest II also contains a New Game+ mode. Once complete your adventure, players can start the game retaining all their abilities, equipment, and experience. When starting a New Game+, the player adjusts the enemy levels so that even on subsequent playthroughs, players may still enjoy a challenge.
The Cat Quest Pawsome Pack will be made available this Spring and is priced around $29.99 / £29.99 / €35.00. Those looking for secure their copy early can already pre-order a copy from Amazon.
Cat Quest II Launch Trailer