Starbreeze Studios' action adventure title "Brothers: A Tale of Two Sons" will officially be coming to Nintendo Switch. Set to launch on May 28th 2019, the game will be available to download from the Nintendo eShop for £9.99 / $14.99 and is available to pre-order right now with a 10% discount!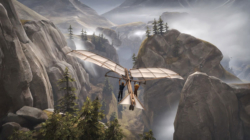 Brothers: A Tale of Two Sons follows the story of two brothers, who after losing their mother, must set out on an epic journey to save their father's life. Tasked with collecting water from the Tree of Life, players must take control of both brothers (simultaneously)  and navigate them through the deadly and puzzle-riddle world that lays ahead.
505 Games has announced that the Nintendo Switch port of Brothers: A Tale of Two Sons will also feature a brand-new two player mode. Rather than simultaneously controlling both characters, Switch players will also be able to take on this adventure by teaming up with a friend (or brother) in local co-op.
On Nintendo Switch, Brothers: A Tale of Two Sons will run at 1080p 30 FPS docked and 720p 30 FPS in handheld or tabletop mode. The publisher has also confirmed that it will be compatible with both the Nintendo Switch Pro Controller and Joy-Cons.
Brothers: A Tale of Two Sons will launch for Nintendo Switch on May 28th 2019 and don't forget to grab your 10% pre-order discount if you're planning on picking this award-winning title up.
Brothers: A Tale of Two Sons - Nintendo Switch