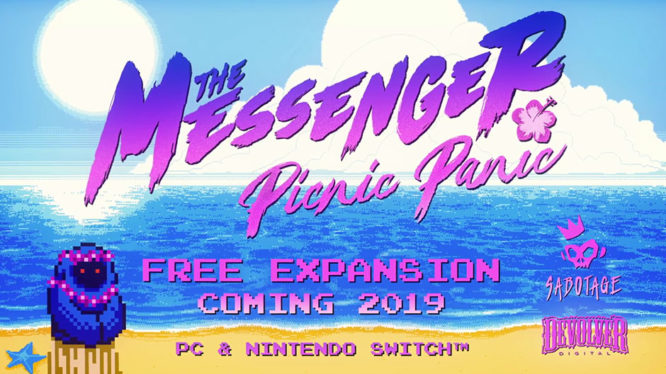 Having been crowned "Best Indie Debut" at The Game Awards 2018, there couldn't be a better time to announce DLC for The Messenger. So during the KF Games Showcase, Sabotage Studio did just that.
Coming in 2019, "Picnic Panic" takes players on a tropical vacation. The DLC will be available as free update for anyone that picked up The Messenger on Nintendo Switch or PC. Picnic Panic promises a fresh, standalone story packed with three all-new levels and brand new boss fights for the award winning retro platformer.
The Messenger made its debut in August 2018 on PC and Nintendo Switch to critical acclaim. Inspired by the Ninja Gaiden series of games, The Messenger is a side-scrolling, action-platformer with a Metroidvania twist. Players assume the role of a young ninja on a quest to save his clan. Whilst on that journey, new skills and abilities can be uncovered that will help our would-be hero on his crucial task to deliver the scroll and rescue his fellow ninjas.
The Messenger: Picnic Panic DLC will be available for free in 2019 on Nintendo Switch and PC. If you're interested in picking up the game, The Messenger is currently part of The Game Awards sale until December 12th.
The Messenger: Picnic Panic DLC announcement trailer