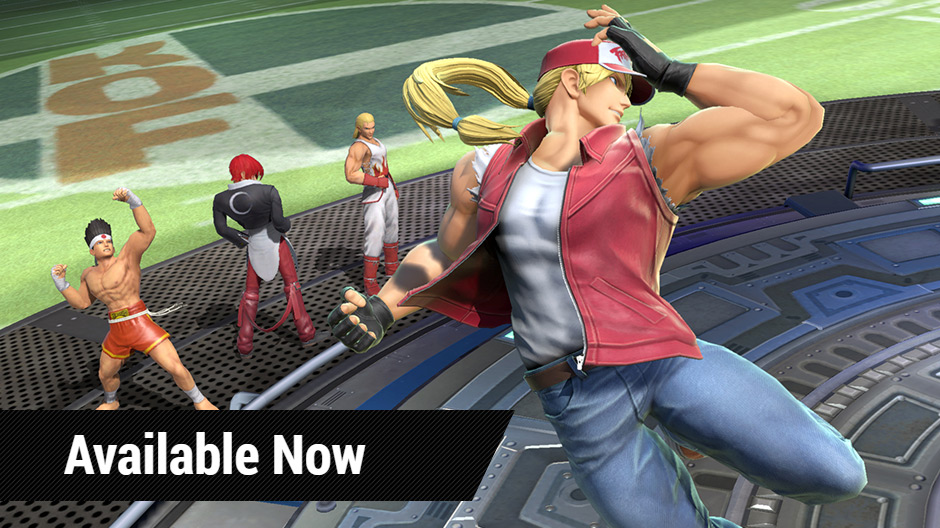 Terry Bogard is now officially available as a playable character in Super Smash Bros Ultimate. The Fatal Fury fighter launched today (November 6th) as part of the fourth Challenger Pack DLC. Not only packing a whole arsenal of fighting flair, Terry will also bring with him 50 new music tracks, a brand new stage and more!
Hot off the heals of Nintendo's live-stream presentation, Terry Bogard has finally been released for Super Smash Bros Ultimate. Players looking to snag the legendary wolf, can obtain him right now using the Smash Bros Fighter Pass or by purchasing Challenger Pack 4 separately for $5.99 / £5.39 / €5.99.
In addition to a brand new playable character, the Terry Bogard Challenger Pack will also feature a brand new stage known as the "King of Fighters Stadium". Based on the Fatal Fury series of the same name, the new stage features a walled edge that can prevent fighters from being launched off. Once a fighter has accumulated some damage, the stage edge will begin to react when they're launched against it. Eventually, with enough damage, the fighter will break through the invisible wall and be launched off-screen.
During the presentation, Sakurai also revealed that the stage would feature a whole heap of background characters from both Fatal Fury and other SNK titles. Totalling over 18 animated guest characters, players will see many fan favourites like Greese Howard and Andy Bogard.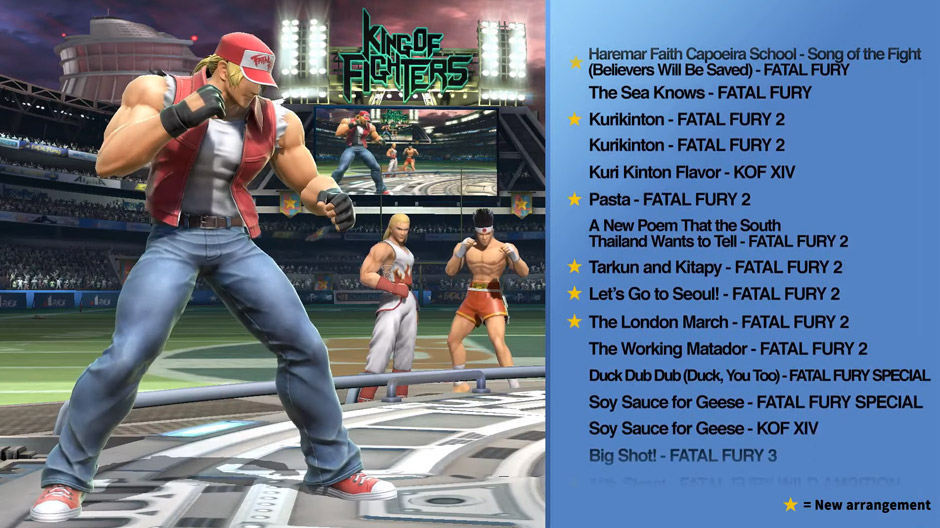 If you're a fan of SNK music, then Challenger Pack 4 is definitely one for you. Featuring a whopping 50 music track from Fatal Fury and other SNK titles, there's going to be plenty of songs to get stuck into. The tracks vary from original scores to some brand new arrangements of classic tunes and will change depending on the appearance of special guests. Yes, the Metal Slug theme is in there.
If that wasn't enough already, players who pick up the DLC pack will also be able to take a new "Terry route" in Smash Bros Ultimate's Classic Mode and be treated to a new DLC spirit board.
If you want to check out the full 45-minute presentation and see Terry's move-set, alternate colors and many other details then dive into the video below:
Smash Bros. Ultimate - Sakurai Presents Terry Bogard