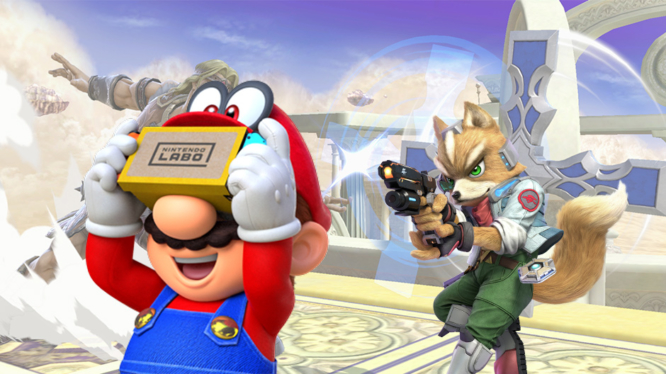 Super Smash Bros. Ultimate will apparently be getting a VR mode in future, according to a recent datamine of the Smash Bros servers. The new mode is expected to be added to the game tomorrow (May 31st) with the 3.1.0 version update.
Nintendo certainly seems to be going all out to make their top selling titles compatible with Labo VR. Not satisfied with just bringing VR support to Super Mario Odyssey and Breath of the Wild, it now looks like Super Smash Bros. Ultimate will also join the list of games getting the cardboard VR treatment.
The datamined information, which is said to be scheduled to go out at 1am UTC on May 31st reads as follows:
VR mode is now available! A whole new perspective on the Smash action awaits! You can play VR mode using the Toy-Con VR Goggles (sold separately).

Now you can send your amiibo off on journeys to train via the Games & More > amiibo menu! Send your battle-hardened FPs out into the wide world to spar with other FPs! amiibo you've sent on a journey will relentlessly pursue their training until they come home!

FPs can now join Battle Arenas. Show everyone the power of a trained amiibo!
It's currently unclear how Super Smash Bros. Ultimate's VR mode will actually work and whether or not it supports live battles. It's entirely possible that VR mode may only be available for battle playbacks or limited to another element of the game. However, until we hear an official announcement from Nintendo, we simply won't know for sure.
If you fancy checking out Smash Bros. Ultimate's VR mode when it launches, then be sure to grab yourself a Nintendo Labo VR Headset and copy of the game. Currently, the cheapest option to jump in is the Labo Toy-Con 04: VR Kit – Starter Set which retails on Amazon for around $39.99 / £46.49.