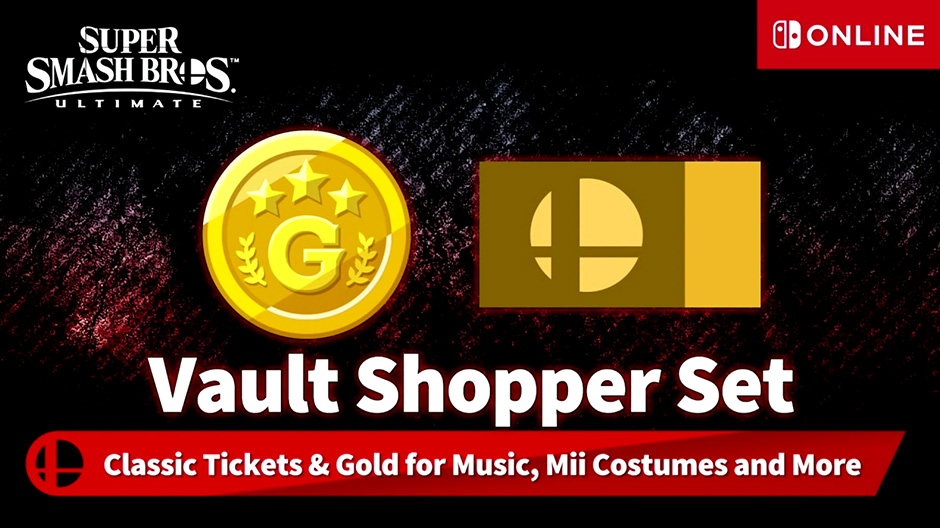 Nintendo Switch Online members have been treated to a special "Vault Shopper Set" for Super Smash Bros Ultimate. The free download aims to reward subscribers with gold and classic tickets that can be redeemed in-game for Mii Costumes, Spirits, music and more.
Offering 5000 gold and 3 classic tickets, the free Vault Shopper Set offer is certainly not one not to miss. Any player with an active (and paid) Nintendo Switch Online subscription is eligible to claim the set, however, trial memberships do not qualify.
To snag yourself the member-exclusive reward, simply follow the instructions included below:
How to claim the Vault Shopper Set for Super Smash Bros. Ultimate
Open the Nintendo eShop on your Nintendo Switch.
Select the "Nintendo Switch Online" section from the left-hand menu.
Scroll down and select the Vault Shopper Set listing.
On the Vault Shopper Set page, select download.
In addition to a paid Nintendo Switch Online subscription, players will (obviously) also need a copy of Super Smash Bros Ultimate to make use of the free download.
Once downloaded, players should now have access to a bonus 5000G and 3 classic tickets to spend how they like. Whether you use them to bag that tricky Spirit, unlock some new music, or secure a new Mii Costume is entirely up to you!