Yacht Club Games has officially announced Cyber Shadow for release on PC, PS4, Xbox One and Nintendo Switch. Developed by Mechanical Head Studios, the retro-inspired game will priced at £11.39 / $14.99.
Cyber Shadow is a fast-paced 8-bit Ninja action game that takes place in a post-apocalyptic future. You play as mechanical Ninja, Shadow, who is fighting back against a horde of synthetic beings that have taken over the world. As you explore Mekacity you will unlock the ancient powers of your Ninja Clan, growing your arsenal and abilities to slash through the game's numerous enemies and huge bosses.
In addition to being Mechanical Head Studios' debut game, Cyber Shadow is also the first Yacht Club Games published title that they haven't developed themselves. Yacht Club Games have also been overseeing the game's finalisation and polish, which as fans of Shovel Knight will know, pretty much guarantees a quality product.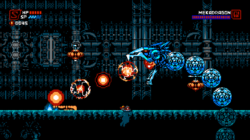 Cyber Shadow is pitched as "the quintessential Ninja Action game" and promises an authentic 8-bit art style with modern touches. The game will also feature unlockable Ninjutsu skills, a gripping story with animated cinematics, hidden supplies packed with items and upgrades, and plenty of secrets for players to discover.
Although no release date has been officially announced for Cyber Shadow, Yacht Club Games have revealed that the upcoming title will come with a $14.99 price tag.
After nearly a decade in development and a whole heap of teaser gifs from developer Aarne "MekaSkull" Hunziker, fans can finally feast their eyes on Cyber Shadow's debut trailer included below:
Cyber Shadow Trailer