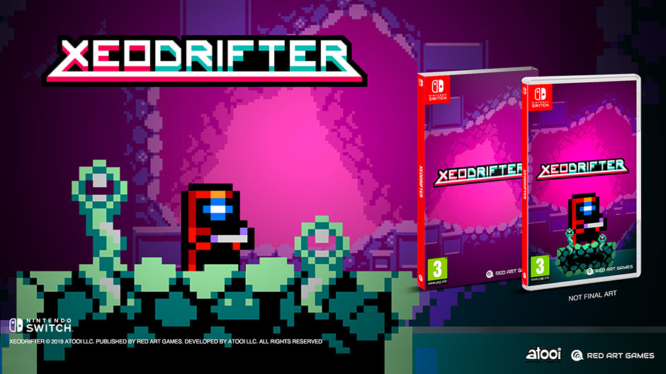 Short-run game publisher "Red Art Games" has announced that Xeodrifter will be getting a limited physical release on Nintendo Switch. Preorders for the upcoming physical edition will begin on September 18th 2019 and are slated to ship in early December.
Originally developed by Renegade Kid, Xeodrifter saw releases on the Nintendo 3DS and Wii U before hitting Nintendo Switch as a digital-only game in 2018. Now, Red Art Games has teamed up with publisher Atooi to bring the retro-inspired title to physical collectors across the globe.
In Xeodrifter, players take on the role of a space-venturing nomad who makes an unexpected collision with a rogue asteroid. With his spacecraft in need of some repair, it's up to you to explore nearby alien planets and gather the parts needed to fix up the ship. Shoot for the stars, battle ancient guardians, uncover a multitude of secrets, and unlock the powerful battle tactics used by legends in this jam-packed Metroidvania adventure.
The physical Switch release of Xeodrifter will be priced at  €29.99 EUR (around $33 / £27) and is limited to 2,800 copies! So if you're looking to snag a limited physical edition, then be sure to hit the Red Art Games website on September 18th (2pm UTC) to avoid missing out.
Those looking to see the game in action can check out Nintendo's official Xeodrifter Switch trailer included below:
Xeodrifter Trailer - Nintendo Switch