Whipseey and the Lost Atlus, the retro-inspired platformer from independent developer Daniel Ramirez, will officially be heading to Nintendo Switch in Q3 2019.
Whipseey and the Lost Atlus is a 2D action platformer that follows the story of Drew, a boy who is transformed and transported to Wipseeyland by a magical book. Wielding nothing but a trusty pink whip, players must guide Whipseey (Drew) through a retro-inspired world, collecting magical orbs in an effort to help him return home.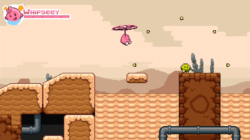 It certainly hasn't been plain sailing for Whipseey's development. Originally conceived as "Whip Master" back in 2017, the game underwent re-branding in 2018 due to another developer stealing both the name and art assets to release an Android clone. The team also faced an issue with their backups becoming corrupted, forcing them to redo months worth of work.
Developing my first commercial release has been a wild journey. We've battled through it all, from other teams cloning our work to being forced to retrace our steps after months of backup files became corrupted. But now we're nearing the end of the tunnel and I'm excited to finally share Whipseey with the world."

– Daniel Ramirez
Despite the numerous setbacks, Whipseey and the Lost Atlus is almost set to whip its way onto Nintendo Switch. The game is currently scheduled to launch during Q3 2019, however, there has been no word on pricing as of yet.
If you want to see Whipseey in action, then you can watch the official announcement trailer directly below:
Whipseey and The Lost Atlas - Coming Soon!