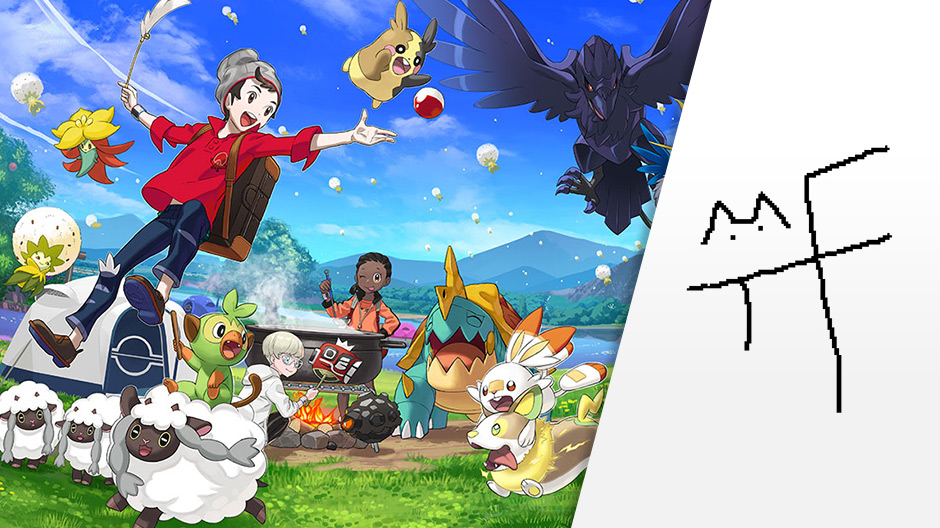 Pokémon Sword and Shield will feature a music track composed by Toby Fox – developer and composer behind the hit indie title Undertale. The news of Toby's involvement was announced through both Toby Fox's personal twitter account and on the Pokémon Secret Club website.
The song, which appears to be dedicated to the Gen 8 Pokémon "Yamper", spawned from a message sent to Go Ichinose-san, after Toby noticed that he followed him on twitter. A quick meeting and bottle of green tea later, Toby apparently had the go-ahead to compose one of the in-game tracks.
Audio sample included on Pokémon Secret Club:
This isn't the first time that Toby Fox has teamed up with Game Freak though. As back in September 2019, it was confirmed that Toby would also be working on the soundtrack for Little Town Hero.
It certainly seems like Toby has been keeping himself busy recently. From Undertale to Little Town Hero, Pokémon and Deltarune, I'm sure it's not the last we've seen of Toby on Nintendo Switch.
Toby Fox on how his music ended up in Sword & Shield
In a recent update on the Japanese Pokémon Secret Club website, Toby Fox explains how the Pokémon collaboration came about. The full interview can be read below:
Hi everyone! I'm Toby Fox. Have you heard of me before?
Well, that's 'cause I just said my name LOL.

Jokes aside, aren't you interested in how all of this happened?
Well… OK. I'll tell you I guess.

Once upon a time, I created an RPG game called UNDERTALE. For one reason or another, it seems a lot of people from GAME FREAK ended up becoming fans of this game.

One day, I noticed Go Ichinose-san, one of the composers for Pokémon, was following me on Twitter, so… I messaged him out of the blue one day.

Eventually, we became friends and I was able to meet many other people from GAME FREAK, too! After eating sukiyaki with members of the company one day, we went to a cafe. There, I ordered a bottled green tea and selfishly,
randomly asked if I could make a song for Pokémon someday…

… they said yes!

Right there in the cafe, they immediately told me a concept for a song I could make, and, as I walked home, my heart was burning with inspiration… a melody entered my head, and as I stumbled past salarymen in the dark, I sang it to myself over and over so I wouldn't forget it!

In the end, that song… became the song you can hear in the game!

It's a fierce track full of explosive power. I wanted to show the energy and passion I felt when asked to create a song for Pokémon!

Yeahh! Let's get wild, baby!!!

Ah, but wait, wait a second. It's the only song I made, and you can't hear it until you beat complete the game so… make sure you enjoy GAME FREAK's music properly first, OK!? Adachi-san and Ichinose-san worked hard…

Don't rush through the whole game just to hear my song… (No one would actually ever do that)

Oh, and this goes without saying, but it's a huge honor to be allowed to make music for GAME FREAK! I'm so, so, happy and thankful I was allowed to do this. So please look forward to the song, and to Pokémon Sword and Pokémon Shield, as well!

Yamper yam yam!

PS – If you like it, please let GAME FREAK know.
They might treat me to sukiyaki again (No one would ever actually do that)
---
Pokémon Sword & Shield are both set to launch Worldwide on November 15th 2019 and are available to pre-order from Amazon and the Nintendo eShop. Those looking to snag some sweet Galar Switch accessories can also check out our ultimate Pokémon Sword & Shield Nintendo Switch accessory guide to see everything currently on offer.