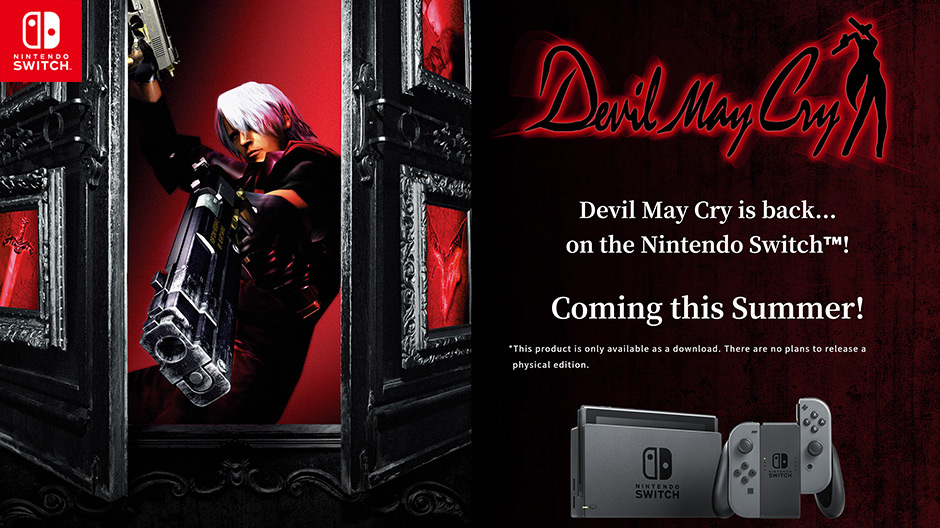 If you're a fan of Capcom's hack-and-slash series, Devil May Cry, then prepare for a trip back to where it all began! Dante is heading to a Nintendo platform for the first time when the original Devil May Cry launches for Nintendo Switch in Summer 2019.
Besides the "Summer 2019" release window, no definitive release date or price has been announced for the Switch port just yet. However, Capcom has confirmed that there are "no plans to release a physical edition" of the game. Instead, Devil May Cry will be available as a digital-only download via the Nintendo eShop.
In Devil May Cry, you play as Dante, a half-human, half-demon, hunter on a mission to take down Mundus – the king of the underworld. Using your sword and pistols, you'll need to rack up combos and take down enemies. Defeating enemies will earn you "Red Orbs" which can be used to power up Dante. Be sure to plan your attacks though, as the more stylish you are, the more orbs you'll earn.
Devil May Cry started life as Resident Evil 4 but as development progressed, the team felt it didn't fit the franchise and opted to release it as a stand alone game. Initially released in 2001 for PlayStation 2, Capcom has since re-released Devil May Cry as part of an "HD Collection" (which included the first three games in the series) for more modern platforms such as PS3, PS4, Xbox One and PC. Currently, Capcom doesn't seem to have any plans to release the collection on Switch.
Revisit this Capcom classic later this year, when the original Devil May Cry comes to Nintendo Switch as a digital download in Summer 2019.