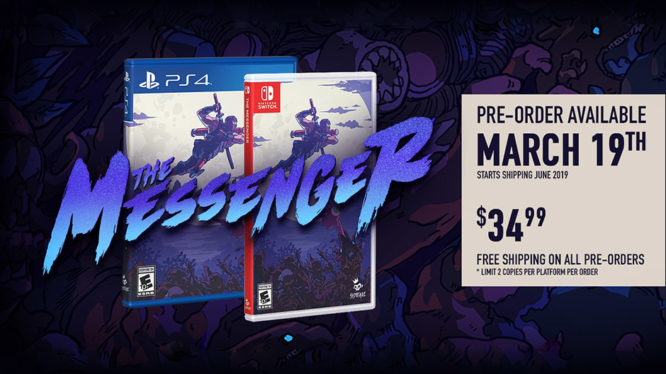 Sabotage's action-packed side scrolling adventure "The Messenger" is getting a physical release for the Nintendo Switch and PlayStation 4! The upcoming physical release will mark the first Nintendo Switch game produced by Special Reserve Games.
Priced at $34.99, pre-orders The Messenger are set to open on March 19th and will be available exclusively through Special Reserve Games. Both the Nintendo Switch and PlayStation 4 physical releases will be limited to two copies per order and are planned to ship out at some point in June 2019. As a little added bonus, Special Reserve Games will be offering free shipping to all customers who pre-order a copy of the title.
The Messenger is a critically acclaimed action platformer that puts players in the role of a Ninja tasked with delivering a scroll through a demon infested world. With intense boss battles, a polished pixel art style, and a catchy retro score, it's no surprise this retro-inspired indie adventure has been so extremely well received.
Fans and collectors will be thrilled to add this title to their collection, so keep an eye out on March 19th for your chance to secure your copy from Special Reserve Games!
Not sure if this game is for you? Then check out our review of The Messenger on Nintendo Switch and feast your eyes on the gameplay trailer below.
The Messenger - Gameplay Trailer