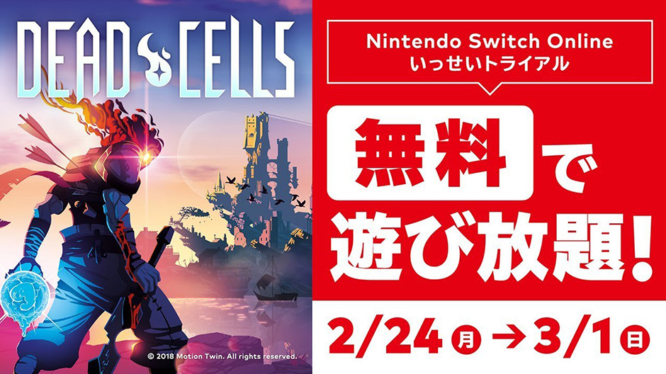 Nintendo has announced that subscribers of Nintendo Switch Online in Japan will be able to play the beloved indie title Dead Cells for free from February 24th to March 1st. While Nintendo has held similar trial periods in the past with Nintendo Switch Online, the company has decidedly shaken things up this time by providing an indie developed game. All previous Nintendo Switch Online game trials have been published or developed by Nintendo.
During this trial period, NSO members will have the opportunity to play the full version of the game at zero cost. Those who decide to purchase the game once the free trial ends can snag the title at a reduced priced until March 8th. This sale will drop the game from its usual 2,480 yen price tag to 1,736 yen and players will also be able to transfer their data from the trial version of the game to the purchased one. 
Dead Cells is a rogue-lite Metroidvania that challenges players with its souls-lite combat and permadeath mechanic. The procedurally generated world of Dead Cells allows for exploration and plenty of opportunities to learn the mechanics of the game.
While the Dead Cells trial is currently limited to Nintendo Switch Online subscribers in Japan, some previous promotions have also been available in other territories. Considering Nintendo's free trial of Captain Toad: Treasure Tracker never made it's way outside Japan though, I wouldn't hold your breath too long.
Dead Cells - Nintendo Switch Online Trial