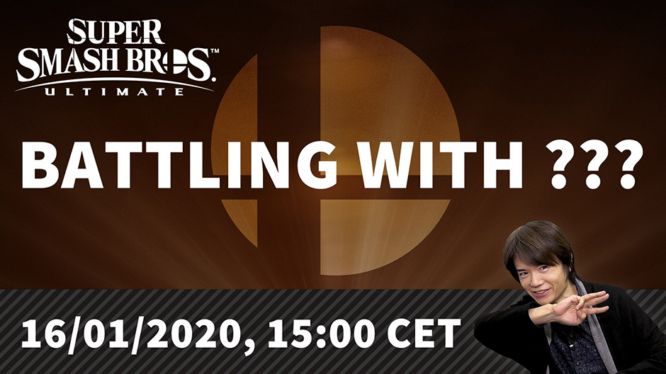 Nintendo has announced yet another Direct, this time focusing on Super Smash Bros. Ultimate. This thirty-five minute video presentation will give us an in-depth look at the final DLC fighter for the Fighter's Pass, presented by none other than Masahiro Sakurai himself. The Direct takes place on Thursday the 16th at 6 AM PT / 9 AM EST / 2 PM UK time.
These longer Smash Directs have become common practice for Sakurai with the latest DLC fighters. The events tend to show off the new fighter and all of their mechanics, their accompanying stage, and brand new music tracks in an informal, albeit entertaining, way.
Although this is the fifth and final fighter from the Fighter's Pass DLC pack, it was announced last September that Sakurai and his team would continue development on introducing more characters moving forward. Those fighters in particular will be sold separately for $5.99 each. Whether Thursday's Direct will give us a hint past the fifth DLC fighter is unknown, so we'll all just have to keep an eye out.
Whoever our next mystery fighter will be is anyone's guess, but people are quick to point out a specific tweet from Devil May Cry's twitter that is aging particularly well. The tweet hints to a unique new feature coming to Devil May Cry 3 Special Edition that will be announced on the same day as the Nintendo Direct.
Sakurai has often used DLC fighters to promote launches of third-party games on Nintendo consoles, and with Devil May Cry 3 Special Edition launching next month (February 20th) the pieces begin to fit together all too well. Keep in mind, with the announcement of this Smash Direct came a picture of Sakurai holding three fingers in the air. Sakurai has never been one to shy away from hints and teases, so perhaps this is a reference to a Devil May Cry 3 character making a debut.
We can endlessly speculate as much as we'd like, but there's always a chance that we are pulling the (Devil) Trigger early on this one. Be sure to tune in on Thursday to find out exactly what Sakurai has in store.