Nintendo and Universal Studios Japan have released a whole heap on information on their upcoming Super Nintendo World park. Alongside a brand new promotional video, the companies also disclosed details about the park's themed wristbands and interactive environments.
Set to open in Summer 2020, before the Tokyo Summer Olympics, Super Nintendo World will first hit Universal Studios Japan with the potential to roll out in other Universal locations later on.
The Nintendo themed land is said to feature interactive environments that will "seamlessly connection using state-of-the-art technology", allowing visors to immerse themselves in the world of Nintendo. One way in which they aim to achieve this is by offering park-goers a wearable wristband called a Power Up Band. Available in various Mario character themes, the Power Up Band can be paired with a Smartphone app and allow its wearer to collect digital coins, virtual keys, and unlock boss battles as they explore the park.
While details on the park's attractions were relatively thin, Universal did confirm that the park would feature an "ultra-immersive" Mario Kart ride that would put visitors "in the driver's seat". An experience which is presumably represented in the promotional music video by four people skidding around a CGI track in a single kart.
In addition to the Mario Kart attraction, Super Nintendo World is also set to play host to a Yoshi themed ride. Described by Universal as a "family-friendly adventure", visitors will be able to explore an area of the park by riding on the back of a Yoshi.
While Super Nintendo World's promotional music video might not feature any real-world shots of the new land, the CGI footage does give fans a rough idea of what to expect when visiting. While people punching Mario question blocks might seem like a CGI pipe-dream, Universal has confirmed that visitors will be able to discover and punch their very own blocks as they venture through the park.
Those looking to hunt down the punchable blocks will also be able to use the Super Nintendo World smartphone app to help them locate them. Based on an app screenshot shown during Universal's press event, there appear to be at least 12 blocks for visitors to discover throughout the park.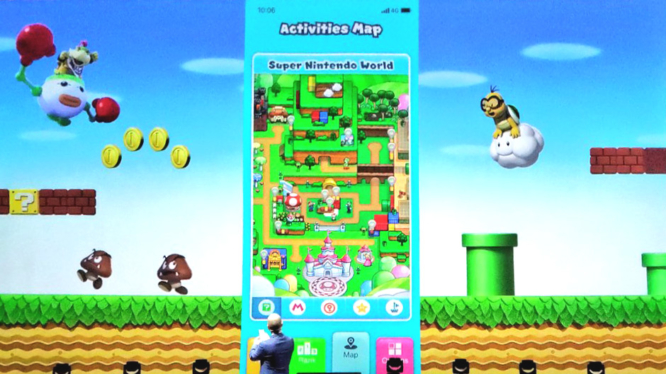 Aside from block locations, the activities map also provides a quick glimpse into the layout of Super Nintendo World. Based on the block locations, visitors will also be able to explore three different levels of the park – with most attractions being located on the ground floor.
Super Nintendo World is scheduled to open at Universal Studios Japan (Osaka) in Summer 2020. Those looking to get a sneak peak at what the new land has to offer can check out the official music video included below.
SUPER NINTENDO WORLD | Galantis ft. Charli XCX