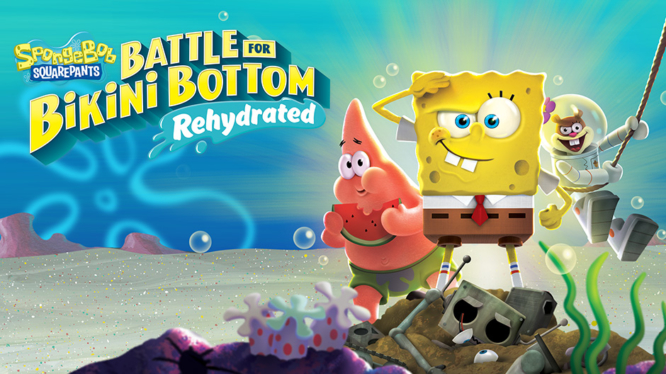 The year is 2019, and anything is possible! Up is down, left is right, and THQ Nordic are remastering SpongeBob SquarePants: Battle for Bikini Bottom for Nintendo Switch, Playstation 4, Xbox One, and PC!
Officially titled "SpongeBob SquarePants: Battle for Bikini Bottom – Rehydrated", the 20 second teaser trailer released by THQ Nordic earlier today gave us only a glimpse of what to expect in future. No gameplay was shown, but we did catch SpongeBob donning the classic green camo military hat from the original and remodelling the signature look from the cult classic's box art.
Details are limited, but we do know that THQ is working alongside Purple Lamp Studios for development and that the game will include a brand new multiplayer mode to boot. The biggest detail that we're still missing though, is the release date, without so much as a 2019 or 2020 release window hinted at.
To gauge interest on whether or not there is hype for this SpongeBob remaster, we decided to reach out to the audience and see what their reactions were. The following responses were sent in by anonymous fans.
"THQ Nordic has won E3 before E3 even started."
– Danny California
"SpongeBob was always my favourite Pokémon."
– Mr LootPot
"I'm mostly looking forward to playing as kaiju SpongeBob in high-definition."
– Everyone else, probably
Take these fan responses as you will, but we suggest that the internet is likely imploding on itself as you read this.
Yesterday, the publisher teased through Twitter that they have three games to announce for this week, and now we know SpongeBob SquarePants: Battle for Bikini Bottom – Rehydrated is the first of them.
The latter two will be revealed on June 6th at 7 PM CEST / 2 PM EST and on June 7th at 7 PM CEST / 2 PM EST respectively. Whatever these games may be, they certainly have big shoes to fill if they hope to surmount today's reveal.
Check out the teaser trailer for the inevitable Game of the Decade below!
SpongeBob SquarePants: Battle for Bikini Bottom - Rehydrated