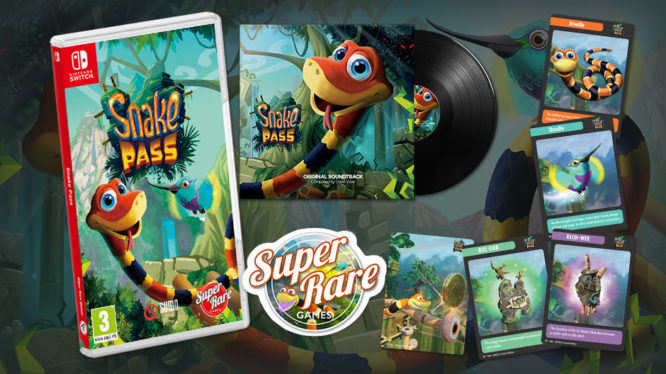 The physical run of Snake Pass on Nintendo Switch will finally available to preorder later today. Starting 6 pm BST / 7 pm CEST, fans and collectors alike will be able to secure one of 4000 limited edition copies.
First announced back in August 2018, the partnership between Sumo Digital and Super Rare Games will see the snake-themed puzzle-platform slither its way into physical form for the very first time. Priced at £29.93 / $34.99 / €33.99, the limited edition release comes packed with a host of additional goodies, multilingual support, and all DLC included on the cart.
Snake Pass limited edition contents:
A physical copy of the Nintendo Switch game.
Standard game case with interior art.
Full-colour Snake Pass artbook.
Snake Pass / Super Rare Games sticker.
A pack of collectable trading cards (3 cards included).
While Super Rare Games are no stranger to releasing collectable trading cards, the ones included with Snake Pass may hold an additional surprise. Mixed in amongst the standard cards will be 125 that have been signed by the Snake Pass development team. It seems as though the special cards will be included a randomly, so unfortunately, it's pot luck whether or not you manage to grab one of the rarer copies.
In addition to the physical Nintendo Switch release, 500 exclusive copies of the Snake Pass soundtrack will also be up for grabs.
Scored by the legendary composer David Wise (Battletoads, Donkey Kong Country, etc), the 12″ vinyl release will be available as a standalone item and as a software bundle.
Preorders for Snake Pass at set to go live at 6 pm BST / 7 pm CEST today. So if you want to get your hands on some physical Noodle, then set your alarms and head on over to the Snake Pass order page.