A new publishing partnership between Skybound Games and Beamdog will see six classic CRPGs come to Nintendo Switch in 2019. Thanks to the partnership, Baldur's Gate, Baldur's Gate II, Baldur's Gate: Siege of Dragonspear, Icewind Dale, Planescape: Torment, and Neverwinter Nights will all be available on consoles for the first time.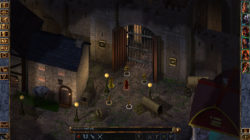 The Dungeons & Dragons role-playing video games have a long history and are beloved by fans. For example, Baldur's Gate is one of the first games developed by Mass Effect creators, BioWare and Icewind Dale came out of Black Isle Studios who were also responsible for creating the Fallout franchise.
Beamdog was founded by BioWare veterans, Trent Oster and Cameron Tofer in 2009 and have since produced "enhanced versions" of games powered by the Infinity Engine. These enhanced versions will be what Switch owners can expect later this year and support widescreen displays, new languages and in some cases, new characters.
These games are iconic, including Baldur's Gate, which has really set the standard for Dungeons & Dragons computer roleplaying games. We're excited to bring Beamdog's incredible slate to new platforms for both the dedicated fan and those who will soon discover these adventures for the first time. As longtime fans of Baldur's Gate and Dungeons & Dragons it's fantastic to partner with Beamdog as the newest member of the Skybound family.
– Ian Howe, CEO, Skybound Games
Skybound Games has also promised both digital and physical releases of the upcoming games, with more information to follow in the coming months. As well as making their debut on Nintendo Switch, Beamdog's RPG classics will also be available on PS4 and Xbox One later this year.