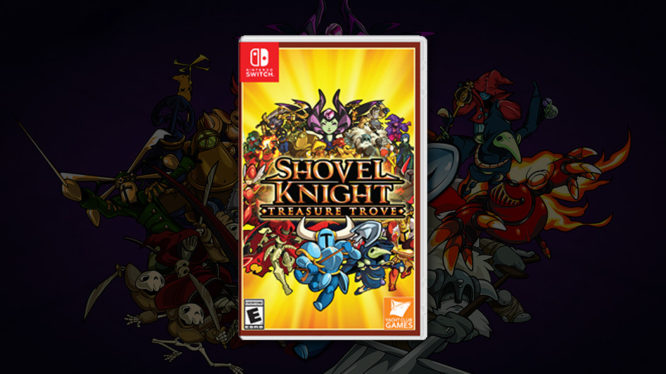 Update:
Shortly after this article was published, Yacht Club Games announced that a physical edition of Shovel Knight: Treasure Trove would release in Europe an North America on April 9th 2019. The Shovel Knight: King of Cards and Showdown add-on content and the Treasure Trove amiibo 3-pack will also all release on the same day.
Yacht Club Games' 8-bit indie hit Shovel Knight, will be getting a physical release on the Nintendo Switch. An online retail listing from GameStop US has revealed the game's box-art and $39.99 price tag.
Pegged as the "full and complete edition of Shovel Knight", the physical version of Shovel Knight: Treasure Trove will include all three previous expansion campaigns and the upcoming "King of Cards" DLC. It's still not clear whether the recently announced multiplayer expansion "Showdown" will be included on the cart or require a separate download.
Although the retail listing did not include a release date, sources close to LootPots have suggested that a Q1 2019 release is most likely on the table. In addition to a potential release window, we were also told that the European pricing would be around €44.99 with Focus, Avanquest, and U&I handling the publishing in their respective regions.
Shovel Knight was first released in June 2014 for PC, 3DS and Wii U – with ports coming later that year for PlayStation consoles, Xbox One, and Amazon Fire. This isn't the first time Shovel Knight has gone physical on a Nintendo console though, both the Nintendo 3DS and Wii U received hard copies of the game in 2015.
Shovel Knight was released digitally on the Nintendo Switch in March 2017, and if rumours are anything to go by, we may see a physical release during Q1 2019.