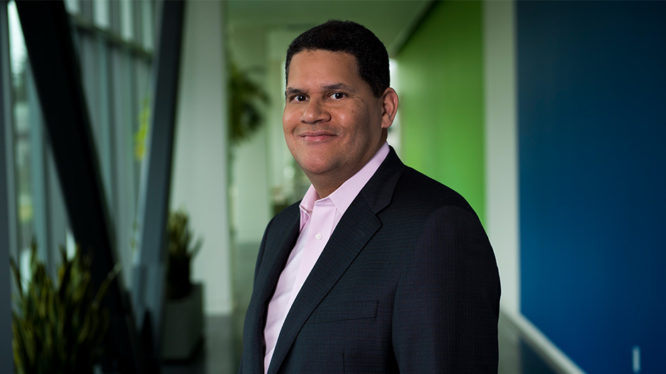 Nintendo has announced that Reggie Fils-Aimé will retire from his current position as President of Nintendo of America on April 15th 2019. Taking the reigns as president afterwards will be NoA's current VP of Sales and Marketing, Doug Bowser.
Known affectionately by Nintendo fans for his passionate (not to mention incredibly gif-able) appearances in Nintendo Directs, Reggie has clocked up 15 years at Nintendo of America – where he served as President and COO for almost 13 years.
In a statement released today, Reggie expressed his thanks for the opportunity to work with Nintendo and stated that the company would always own a part of his heart.
Nintendo owns a part of my heart forever. It's a part that is filled with gratitude — for the incredibly talented people I've worked with, for the opportunity to represent such a wonderful brand, and most of all, to feel like a member of the world's most positive and enduring gamer community. As I look forward to departing in both good health and good humor, this is not 'game over' for me, but instead 'leveling up' to more time with my wife, family and friends.
– Reggie Fils-Aimé, President of Nintendo of America
A short video was also released by Nintendo of America in which Reggie thanks the Nintendo fans who have supported the company through the ups and downs of the last 15 years. (Warning: this video is likely to induce teary eyes and lumps in throats).
We at Lootpots would like to thank Reggie Fils-Aimé for his dedicated service to Nintendo, and wish him all the best for the future.
Reggie Fils-Aime's Goodbye Message To Fans