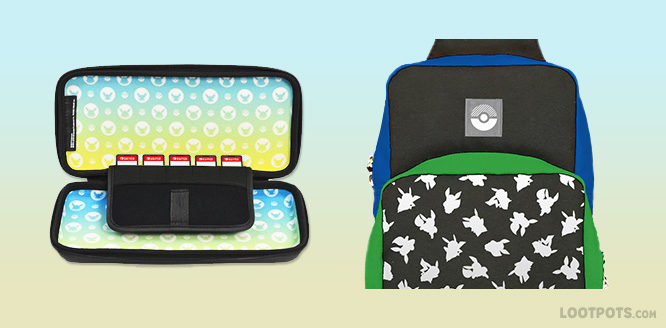 According to our sources, Pokémon Let's Go Pikachu / Eevee themed Switch accessories are inbound. It's rumoured that fans will be able to get their hands on a Nintendo Switch carry case and a nifty little bag later this year.
The Pokémon themed Switch case (pictured above) features a hard shell, padded interior, five game card slots, and an elasticated strap to store a USB-C cable or Joy-Con straps. Printed on the interior is blue and yellow gradient background with alternating rows of Pikachu and Eevee silhouettes. They even managed to squeeze some white Poké Balls in-between them. What's printed on the exterior is currently unknown, but I'd hazard a guess that it's Pokémon related.
The single strap bag (also pictured above) features full body silhouettes of Pikachu and Eevve on the outside and a grey Poké Ball tag at the top. It's possible that the exterior of the bag may actually be the same as the case, but that's currently not verifiable. In contrast to the black front, the sides of the bag are green around the front zipper and blue along the main body.
Pokémon Let's Go Pikachu and Let's Go Eevee are due to release worldwide on November 16th 2018 and (if past accessories are anything to go by) I'd expect any cases/bags to release the same day.
However, this is all a "rumour" until proven otherwise.