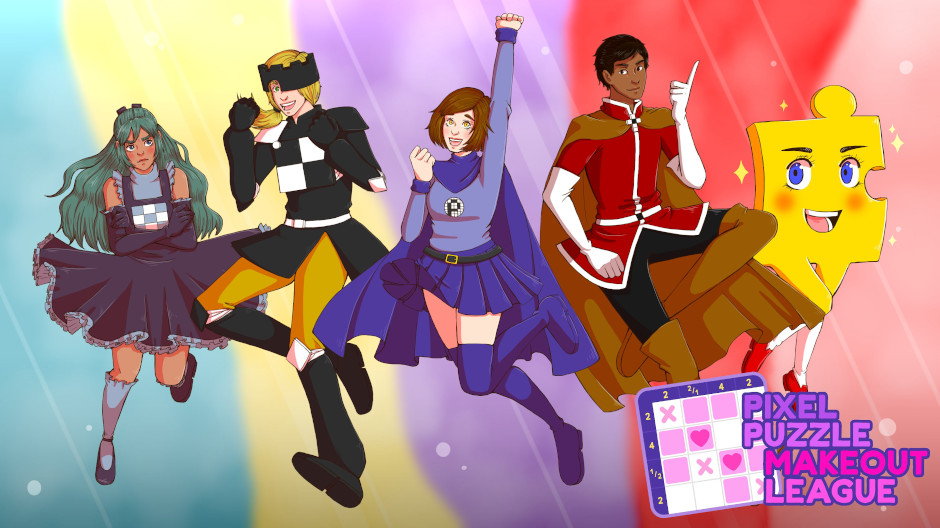 Take on the role of superhero-in-training Pixel Girl, as she uses her superpower to complete nonogram puzzles and solve her life's daily problems. Releasing in Summer 2020, this colourful mashup of Picross and dating-sim lets players fulfil the fantasy of dating the puzzles they love.
While Pixel Girl's power (does this count as a power?) is to complete picross puzzles, she must also join and date a band of four superheroes, the Puzzle League. Each hero has their own puzzle, from the logical Sudoku and the strategic Chess, to the wordsy Crossword and the literal giant puzzle piece Piecea. And of course the player character, Pixel Girl, who is blessed with the power of attraction in the midst of her cohorts.
Dating a superhero is anything but normal, with prime date spots ranging everywhere from the top of a mountain to the centre of the earth. Every night out promises to be a harrowing experience, to say the least of it. Meanwhile, a puzzling narrative interweaves multiple dates from the singles, as a villain attempts to up-end your world with his doomsday plot. Bringing together the power of her own charms, and a desire to solve the puzzles at hand, it's up to Pixel Girl and co. to thwart the bad guy and save the day. All while not forgetting the need for a social life of course!
Receiving awards from shows such as Pax East and Momocon, Rude Ghost plans to develop the definitive puzzle-dating experience.
Pixel Puzzle Makeout League is scheduled to release in Summer 2020. There's no pricing information available at this time, however, for fans eager to see more, Rude Ghost did leave us with a teaser trailer which can be found below.
Pixel Puzzle Makeout League teaser trailer