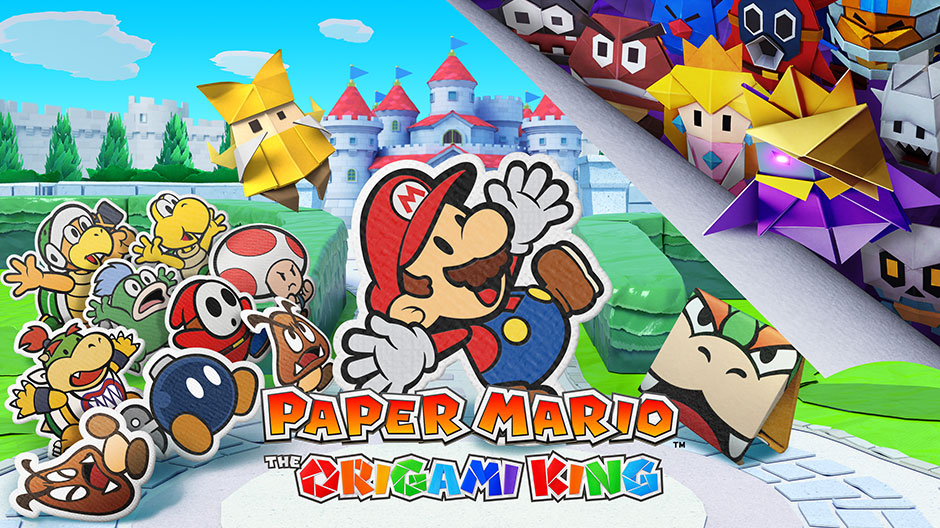 Nintendo has revealed that a brand new Paper Mario game will be heading to the Nintendo Switch on July 17th 2020. Officially titled "Paper Mario: The Origami King", the new title marks the sixth entry in the beloved Paper Mario series.
Packed with paper puns, vibrant crafted worlds (and even a Super Metroid Easter egg at the end), the trailer begins with Mario talking to an unfamiliar Princess Peach who urges him to be "reborn" into origami before sending him falling through a trap door!
Teaming up with an origami companion named Olivia, Mario must take on the devious King Olly (The Origami King, presumably) who has turned Peach into origami and sealed her castle shut. This new adventure will take Mario across scorching deserts and dangerous seas, as he journeys to recruit a team to take down King Olly's army of paper invaders! Shaking up the traditional Mario formula, it appears that Bowser and Bowser Jr. will be on Mario's side for this epic adventure.
In an unlisted video posted to Nintendo's YouTube channel, a glimpse into the game's turn-based combat system can be seen. Demonstrated in the short video is Mario using a spinning wheel divided into rings to move enemies together to take them down in one turn. More details on this interesting combat system are likely to be revealed in due course but what we know so far is that these battles will test not only players' tactical skills but puzzle-solving as well!
Developed by Intelligent Systems, who recently received critical acclaim for Fire Emblem: Three Houses, Paper Mario: The Origami King is shaping up to be a very exciting addition the Switch's already fantastic library that will intrigue returning players and new fans alike.
Check out the game's announcement trailer below, and hold tight for further information on this exciting new entry in the Paper Mario series!
Paper Mario: The Origami King - Announcement Trailer