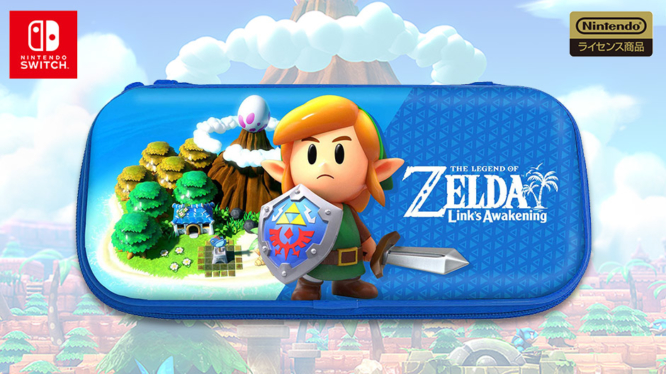 An officially licensed Link's Awakening Nintendo Switch hard pouch will be hitting stores in September 2019. The HORI produced accessory, which is priced at $19.99, seems to have gone up for pre-order from Amazon US prior to any official announcement.
If you've been looking for a case to protect your Nintendo Switch while you cart Link's Awakening around this September, then look no further! As the leading accessory manufacture for Japan "HORI" will be producing this stunning and officially Nintendo licensed hard pouch to fit the bill.
According to the description on Amazon US, the Link's Awakening case will feature full colour artwork on the exterior (as pictured above) and provide a "sturdy-yet-lightweight" case to keep your console safe. As with most HORI produced cases, the case will also pack a handy inner pouch to store any Switch accessories in and multiple elasticated cartridge slots to house your games.
Officially titled the "Legend of Zelda: Link's Awakening Edition Hard Pouch", the themed case is set to launch in the US on September 24th 2019 (four days after the game itself launches). It's currently unclear whether or not the inside will feature a similar pattern to that shown on the outer case, however, if past HORI cases are anything to go by, there will almost certainly be some form of Zelda pattern.
The Link's Awakening hard pouch will be available in the US for $19.99, with pricing and release dates for other regions yet to be announced.