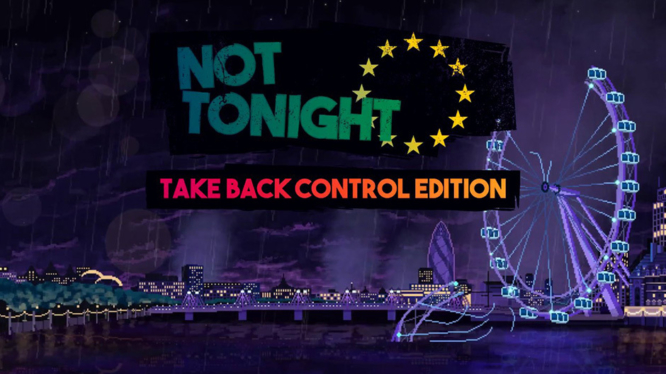 No More Robots have announced that Not Tonight: Take Back Control Edition will be launching for Nintendo Switch on January 31st 2020. Developed by PanicBarn, Not Tonight is a management sim RPG with a comedic, politically-motivated story revolving around post-Brexit Britain.
In addition to the original story, the Nintendo Switch port of Not Tonight: Take Back Control Edition will also include the new "One Love" DLC. Providing players with an additional chapter, new locations, and extra gameplay elements.
Take control of your new European self, as you struggle to secure your citizenship in a dystopian Britain. Grab a job as a Bouncer at different nightclubs and bars, as the extremist government flexes its muscles on anyone of European heritage. Your life has been drastically changed, forced to exist in a gig-centric economy, you must live paycheck-to-paycheck in an effort not only to survive, but to simply stay in Britain.
Part management sim, part time-pressure RPG, Not Tonight emphasizes decision-making. The choices made along your journey can drastically change the outcome. One of the important decisions you need to make is between fighting the extremist regime or just getting by in order to survive and keep your citizenship in Britain. Which will you choose? You won't have to wait long, because Not Tonight: Take Back Control Edition is launching on the Nintendo Switch this month (on January 31st 2020) for $24.99 / £19.49 / €22,99. Be sure to check out the humorous trailer below!
Not Tonight launches on Nintendo Switch on January 31