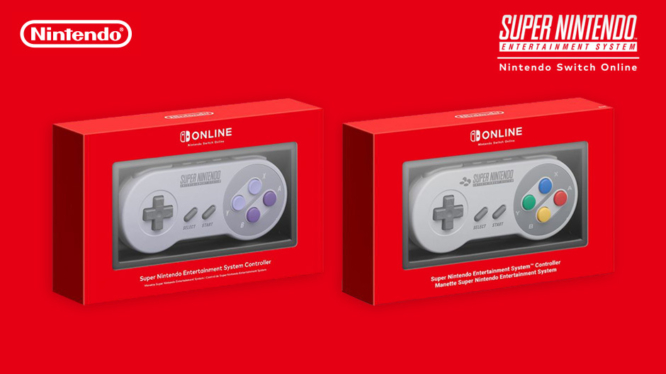 Nintendo Switch Online subscribers can now order themselves an official SNES controller for their beloved Switch. The classic controllers are available to order directly from Nintendo (links below) and are priced at $29.99 / €29,99 / £26.99.
During 2019's September Direct, Nintendo revealed that Super Nintendo Entertainment System games were coming to Nintendo Switch Online. Alongside the announcement also  came news of a classic SNES controller designed specifically for the Nintendo Switch. Although no release date was given (other than "later"), the time has finally come, because retro fans across the globe can now order their very own Nintendo Switch SNES controllers directly from Nintendo!
Where to order your SNES Switch Controllers
As the official Nintendo Switch Online SNES controllers are sold directly by Nintendo, you will have to visit your regional Nintendo website to purchase one. We've provided some quick links below, but if you're in the EU and your country isn't listed, then simply click the UK link and change ".co.uk" in the URL to the correct TLD for your country.
In a true callback to the original Super Nintendo/Super Famicom, North American regions will see the SNES styled controller with the purple/grey button layout. While other territories (like Europe) will be able to snag controllers featuring Red, Yellow, Blue, and Green buttons.
Unlike its Nintendo Entertainment System counterpart, the Super Nintendo Entertainment System controller for the Nintendo Switch launches in a single pack with only one controller and each Nintendo Account can order up to 4 controllers. The SNES controllers also share the same means of charging as the Nintendo Switch Pro Controller and the Nintendo Switch system itself – USB Type-C, with one USB cable provided in the box.
Players, are you excited to get your hands on true Super Nintendo nostalgia? Enjoy 20 SNES titles while getting as close to the real feel as you can with these new controllers!