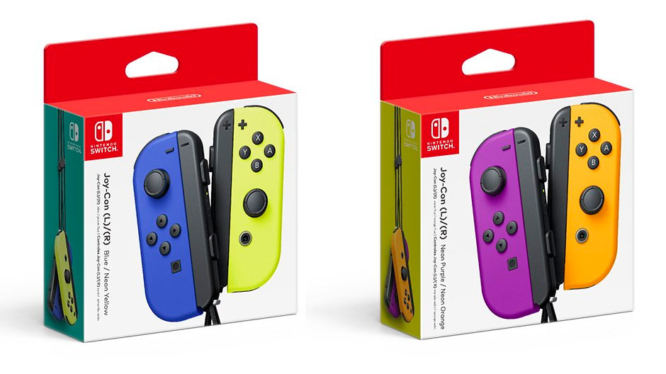 Get your wallets ready Joy-Con collectors. Nintendo has announced two new sets of Joy-Cons coming on October 4th for $79.99.
The new sets include Blue/Neon Yellow and Neon Purple/Neon Orange and were originally revealed on Nintendo of America's Twitter account.
At the time of writing, there's no word on if/when these colour combinations will be available to European players, but the same sets are currently listed on Nintendo's Japanese website. We'll be sure to update you as information becomes available.
Fans of ARMS will recognize the Neon Yellow Joy-Con, which was originally sold as a promotional pair alongside the motion control fighter's release. This marks the first time Nintendo has revisited an existing colour in a new set of Joy-Cons.
However, that's not all Nintendo had to announce today! Just one week after the announcement of the brand new Switch Lite, Nintendo has announced what appears to be a long-term replacement for the original Switch with improved battery life thanks to a more efficient Nvidia Tegra chipset that powers the console.