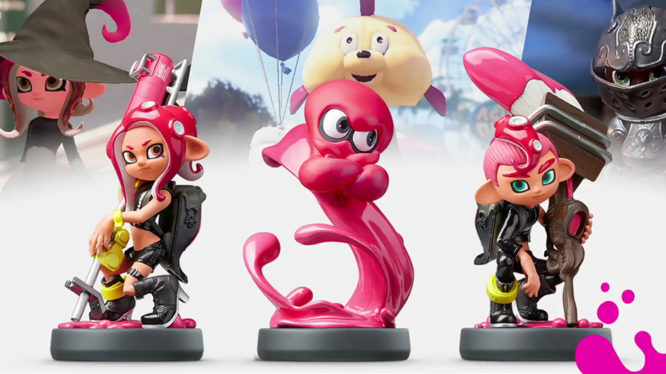 Nintendo has finally announced the Splatoon 2 in-game gear rewards unlocked by scanning the upcoming Octoling amiibo. Launching as a triple-pack on November 9th (EU) and December 7th, the figurines will provide players with Enchanted gear, Steel gear, and Fresh Fish gear.
Unlocked by using the Octoling Girl amiibo, the Enchanted gear kits players out in witch/wizard-themed outfit. Featuring a black hat, black robe, and some curly-toed shoes, the Enchanted gear would have been a great fit for Halloween. However, it's launching a tad late. While the hat and shoes remain the same between when worn by a boy or girl, the robe differs slightly in appearance.
The Steal gear, which is unlocked by tapping the Octoling Boy, sees in-game characters don a shiny suit of armour. Nintendo has only shown one character in the outfit, so it's unknown if the gear varies when worn by different gender Inklings or Octolings. However, considering the choice to only show one, it's most likely unisex in design.
Last up is the oddly creepy "Fresh Fish gear". Based on a popular Inkpolis character, this last bit of gear is obtained by scanning the Octopus amiibo. Styled like an amusement park costume, the outfit turns players into some kind of mickey-mouse fish parody. Amusingly, the trailer states "balloons not included".
Splatoon 2 – Octoling 3-Pack – New amiibo