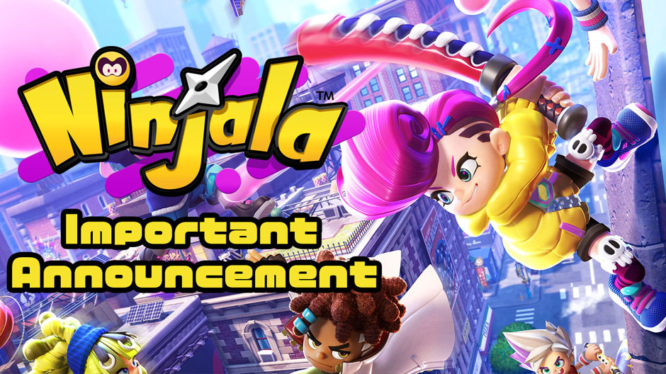 Today, Japanese developers Gung Ho announced that Ninjala, the upcoming free-to-play battle royale game heading to Nintendo Switch, has unfortunately been delayed due to the ongoing global COVID-19 pandemic. Ninjala's launch, initially slated for May 27th, has been pushed back to June 24th.
The announcement was made via a video on the game's YouTube channel by directors Morshita and Kaneda that apologised for the delay but provided no details beyond the fact that development has been impacted by the current crisis.
The game was first announced in March during the Nintendo Direct Mini and centres upon the fictional Ninjala Tournament hosted by the World Ninja Association. Players assume the role of characters competing to become the mightiest ninjas in the league, engaging in melee combat using a variety of weapons across vibrant maps. Equipped with Ninja-Gum to bring out the greatest ninja abilities, players can join 8-player matches either in a free-for-all battle royale or a 4-vs-4 team mode.
Ninjala held an international open beta between April 28-29 that was met with numerous server errors that prevented many players from accessing the game. However, those that managed to gain access to the beta seemed to come away with positive opinions and therefore excitement for the game's launch has been on the rise.
Unfortunately, for now, we'll just have to wait a little longer before putting our ninja skills to the test when Ninjala launches exclusively on Nintendo Switch on June 24th.
Until then, check out the game's announcement trailer below!