Devolver Digital and developer Deadtoast have peeled back the yellow (and slightly bruised) skin of Pedro to reveal the succulent release date hidden within. My Friend Pedro will officially be ripe for picking on June 20th for both Nintendo Switch and PC.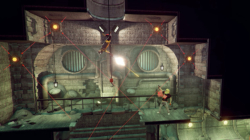 Best summarised by their "Blood. Bullets. Bananas" slogan, My Friend Pedro is side-scrolling action shooter featuring a man and his sentient banana buddy. Set to annihilate everyone in their path, players will find themselves gracefully swirling and twirling the slow-mo' slayer through bullets and bodies as they shoot for victory.
In addition to a whole bunch of weapons, My Friend Pedro also packs a vast array of interactive environmental items that, if used wisely, can be used to gain a combat advantage. Whether your ricocheting bullet off a frying pan, swinging from ceiling hooks, or speeding past on a skateboard, they'll be plenty on offer to satisfy those with a flair for the dramatic. There's even a spit-aiming feature, allowing players to make the most of dual-wielding guns and strategically take out multiple enemies at the same time in an explosion of action.
My Friend Pedro is set to release for Nintendo Switch and PC on June 20th 2019. The Nintendo Switch release will be priced at $19.99 / €19,99 / £17.99 with a 15% discount for those who pre-order the game from the eShop. The PC release will set players back around  $19.99 / €16,79 / £15.49 and also packs a 15% discount promo.
My Friend Pedro - Release Date Hype Train