A UK-based online retailer may have inadvertently leaked a whole host of release dates for upcoming Nintendo Switch games. Included on the retailer's product listings are dates for Luigi's Mansion 3, Animal Crossing, and Daemon X Machina.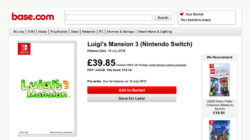 The potential release dates for the 2019 Nintendo Switch titles all appear on product pages from base.com's website. If the assigned dates are to be believed then Switch owners could be vacuuming up ghosts in Luigi's Mansion 3 as soon as July 19th. A somewhat convincing date, considering Nintendo's recent announcement trailer.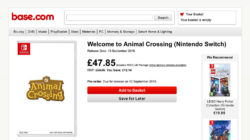 Animal Crossing Switch is also listed on the retailer's website, however contrary to earlier rumours, it bears a September 13th launch date. Interestingly, base.com opted to title the upcoming game based on its logo "Welcome to Animal Crossing".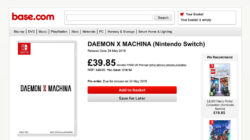 Marvelous' brand new IP, Daemon X Machina joined the ranks of potentially leaked release dates too. The mech action game from Kenichiro Tsukuda is currently listed on the retailer's website with a release of May 24th, 2019. Which suggests that it may be one of Nintendo's next releases after Yoshi's Crafted World.
The previously announced Shin Megami Tensei game can also be found on base.com's site, although in this case, it seems to use a placeholder date of December 30th (as is common with many retailers). However, Shin Megami Tensei aside, all other dates seem to align with Nintendo's usual pattern of Friday releases.
As with all rumours, especially retailer listing, this one should be taken with a large pinch of salt. Nintendo Switch titles such as Shin Megami Tensei and the recently delayed Metroid Prime 4 are listed with somewhat obvious December placeholder dates. While the other titles dates may seem realistic, until they're officially announced, they're unfortunately still just rumours.