Bandai Namco's action-puzzle series, Katamari is coming to Nintendo Switch as Katamari Damacy Reroll this winter.
Announced during tonight's Nintendo Direct, Katamari Damacy Reroll is a remaster of the PS2 original and adds motion controls and HD rumble support. Released in 2004 to critical acclaim, Katamari Damacy has players control a prince rolling around a magical, sticky ball called a katamari.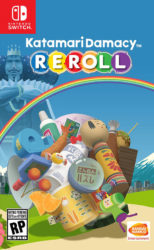 Using the katamari players must collect objects in the world to rebuild planets and stars that were inadvertently destroyed by The Prince's father, The King of All Cosmos. Items you pick up start off small and as the ball increases in size so do the objects you collect with buildings and even mountains eventually sticking to your katamari.
The game spawned eight sequels and several spin-offs including the DSiWare title, Korogashi Puzzle Katamari Damacy that was inspired by Tetris.
As the original game was not released in Europe or Australia, Katamari Damacy Reroll is the first time players in those regions will be able to play it. The game is also the first to hit a Nintendo console with previous titles in the series available on PlayStation and Xbox systems.
Keep an eye out for Katamari Damacy Reroll when it comes to Nintendo Switch this winter.